Lunada Virtual Literary Lounge
Galería de la Raza and Borderlands Theater team up to bring monthly Lunadas into homes every New Moon with NEW dates for 2020.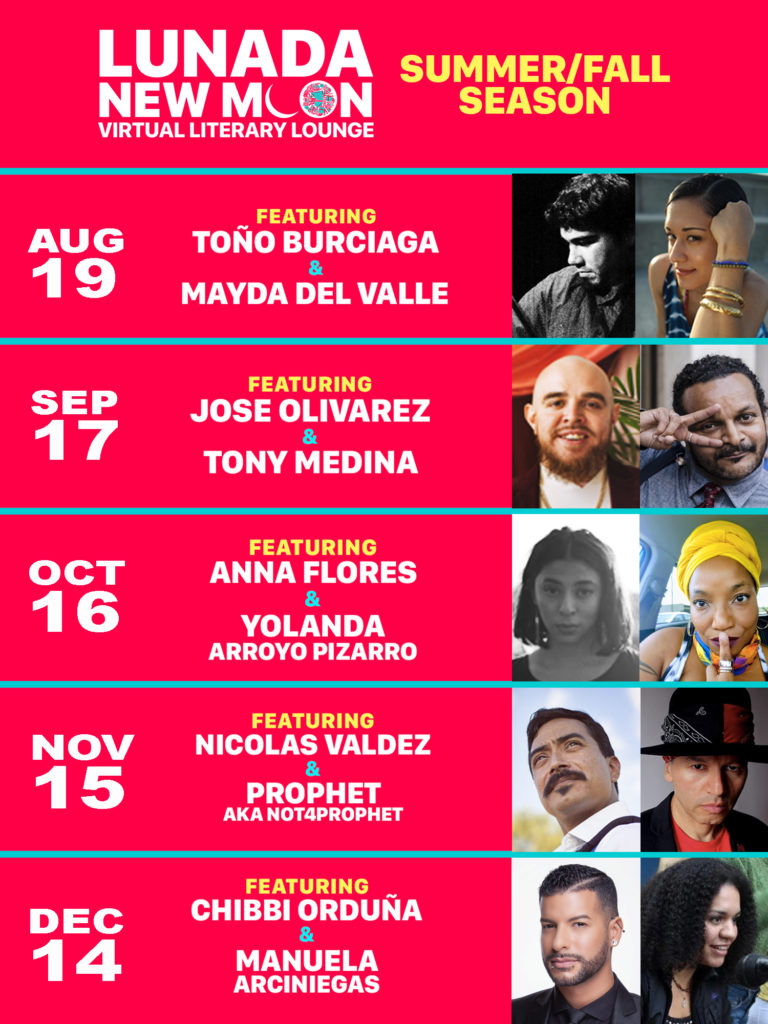 LIVESTREAM

@ 6 pm MST on Borderlands' FACEBOOK and YOUTUBE
---
UPCOMING LUNADAS
***Click artist names below for BIOS & HEADSHOTS
Wednesday, August 19th FEATURING Toño Burciaga & Mayda del Valle
Thursday, September 17th FEATURING Jose Olivarez &Tony Medina
Friday, October 16th FEATURING Anna Flores & Yolanda Arroyo Pizarro
Sunday, November 15th FEATURING Nicolas Valdez & Prophet aka Not4Prophet
Monday, December 14th FEATURING Chibi Orduña & Manuela Arciniegas
PAST LUNADA PERFORMANCES
***Click artist names below for BIOS & HEADSHOTS
Sunday, June 21st FEATURING Jesus Valles & Marga Gomez
Monday, July 20th FEATURING Ariana Brown & Carmen Tafolla
---
Barrio Anita featured in AZ Creative Voices Podcast!
#BarrioStoriesBarrioAnita
AZ Creative Voices is a ten episode podcast series that chronicles the #AZCCI experience. Producer Regina Revazova takes listeners on a tour of participating communities, including Tucson's historic Barrio Anita neighborhood. Listen to the full episode at https://azarts.gov/azcci/
Barrio Stories in Barrio Anita and it's continued programming as well as this podcast has been supported in part by the AZ Creative Communities Institute (AZ CCI). The AZ CCI is an initiative of the Arizona Commission on the Arts and Arizona State University's Herberger Institute for Design and the Arts, with guidance from Southwest Folklife Alliance, an affiliate nonprofit of the University of Arizona. Made possible by a grant from the Surdna Foundation with additional support from the Arizona Community Foundation.