Borderlands Theater proudly presents its 30th season: Unearthing Humanity
NNPN ROLLING WORLD PREMIERE


by Hilary Bettis
Directed by Barclay Goldsmith
April 14-May1, 2016
Temple of Music and Art Cabaret Theater, 330 S Scott Ave, Tucson, AZ 85701
Borderlands Theater is excited to announce the National New Play Network Rolling World Premiere of The Ghost of Lote Bravo, developed at the Julliard PlayLab and Kennedy Center, among other places, by rising star Hilary Bettis.

In Juárez, Mexico, the most violent city in the world, Juanda's daughter goes missing from the sweatshop in which they both work. When the crooked policia refuse to help, Juanda's only hope is to ask the dark saint, La Santa Muerte, to guide her. In this riveting production, Juanda charges through dreams and visions and must risk everything if she ever hopes to see her daughter again.

Performances preview Thursday April 14, Opening Gala Saturday April 16. Play runs Wed- Sun after opening weekend through May 1, 2016 at the Temple of Music and Art Cabaret Theater. Preview tickets start at $6, General admission $22.50, $18 for seniors, $12 for students.
Buy Tickets Now!
Meet the artistic and production team.
Standing With Saguaros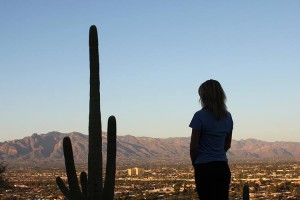 Act I: I Stand with Saguaros
#IStandwithSaguaros is a campaign to befriend, support, and connect with the saguaro cactus (Carnegiea gigantea) iconic species of the Sonoran Desert. If you stood with a saguaro cactus for an hour, what would you discover? Try it.
Choose a group to participate in for a group stand in Saguaro National Park
– April 16: Sunrise 6-7:30am Saguaro National Park West #IStandwithSaguaros Sunrise Opener
– April 23: Sunset 5:30-7pm Saguaro National Park East (Featuring local musicians)
– May 1: Sunset 5:30-7 Saguaro National Park West (Featuring Tucson poets & writers)
– May 7: Morning 7:30-9am Saguaro National Park East (Featuring Tucson communities of faith)
– May 15: Morning 7-8:30 am Saguaro National Park West (Featuring artists from The Drawing Studio)
– May 29: Sunset 6-7:30 pm Saguaro National Park East
Sign up Here!
Or Go on your own, or with friends to Saguaro National Park
STAND (or sit) with a saguaro for an hour (if you can).
POST your discoveries and a photo of you and your saguaro with #IStandWithSaguaros to Facebook, Twitter, Instagram, etc. Additional identifiers: #SaguaroNationalPark #BorderlandsTheater #ImagineYourParks #NPS100 and on Twitter @BLTheater, @SaguaroNPS, NEAarts
Why?
Because you're willing to try anything once.
Because you've heard that standing or sitting still for a while in quiet contemplation can help reduce stress and contribute to your overall health.
Because you want to experience a new kind of theater, one in which performers and audience members are non-human.
Because …
Try it and tell others why!
April 16 – May 31, 2016
Saguaro National Park West
2700 N. Kinney Rd.
Meet at the Red Hills Visitor Center
Saguaro National Park East
3693 S. Old Spanish Trail
Meet at Rincon Mountain District Visitor Center
Sign Up: Here!
**Additional group stands can be scheduled. Contact Kimi Eisele to facilitate.
Free! Fees to enter Saguaro National Park are waived if you say you are "standing with a saguaro." However, we encourage a $10 donation (which you can offer at the entrance kiosk or in the visitor center) to help protect public lands and wilderness areas.
For more information visit: www.StandingwithSaguaros.org
Borderlands Upcoming Season 2016-2017
Nogales
By Richard Montoya
Directed by Sean San Jose
September 7- September 25
Featuring Culture Clash member, Richard Montoya, Nogales uses original and researched text, created video and short film, inside of scenic art installations. At the core is the tragic story of a Nogales boy, shot in the back 15 times by a U.S. Border Patrol Agent. Through documentation morphed into performance, Nogales traces the bullet back beyond the headlines to explore this real life theatre of the border.
La Pastorela
Written by Milta Ortiz and the Ghost Writers
December 1- December 11, 2016
A Tucson holiday tradition returns! Shepherds make the harrowing journey to find baby Jesus. Generously infused with farcical satire lampooning 2016's biggest political and pop culture events.
Guera
Writtend and Performed by Lisandra Tena
February 1- February 12, 2017
Structurally innovative and emotionally riveting, Guera is the nuanced, unflinching story of one young woman's struggle to survive while gwoing up with a drug-addicted mother and an over-whelmed, alternately tender and violent father. Drawing on years of supporting herself as a waitress, Tena offers her life as a menu of scenes- audience members choose the appetizer, entree and desert- will it be Mom's Yard Sale or Promises, Promises? El Mexicano or The Talk? No matter the choices, the audience will get the full story.
Shooting Columbus
By Klee Benally, Ryan Pinto, Adam Cooper-Teran, Denise Uyehara
Directed by Rachel Bowditch
March 30- April 9, 2017
What would happen if a group of Native Scientists built a time machine and shot Christopher Columbus before he set sail to the New world? Indigenous and non-indigenous artists from the state of Arizona work around issues of sovereignty through contemporary theater and performance.
Buy Your FLEX PASS tickets here!
click here to buy INDIVIDUAL tickets online
WORLD PREMIERE


by Milta Ortiz
Directed by Marc David Pinate
September 10-27, 2015. Thurs-Sat at 7:30pm, Sun 2pm matinee.
Temple of Music and Art Cabaret Theater, 330 S Scott Ave, Tucson, AZ 85701
Based on a true story. A community struggles to hold onto their history, identity, and humanity as they fight to save Mexican American Studies in the Tucson Unified School District.
Más was commissioned and developed at Borderlands through a National New Play Network playwright residency. The script was further developed by a Tucson Pima Arts Council Individual Artist Grant, and was one of eight plays recently selected for the national Latino Theater Commons Carnaval play festival  in Chicago.
Click here for complete performance information, bios and headshots…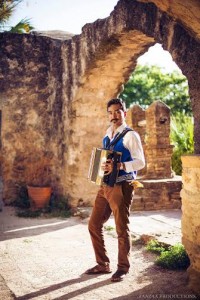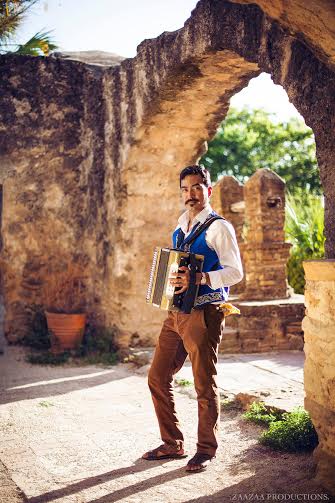 Written and Performed by Nicolas Valdez  with  guest musicians

Sunday, October 4
6:00pm Food Trucks! 7pm show!
Fox Theater
17 W Congress St, Tucson, AZ 85701
One night Benefit Fundraiser for Borderlands at the Fox Theater!
Tucson, put on those dancing shoes and prepare for an exhilarating evening where the past and future come together in perfect harmony. Borderlands Theater proudly presents CONJUNTO BLUES, a one-night-only extravaganza of South Texas theatre and music. The first half of the night features San Antonio based Nicolas Valdez's one-man show which theatrically chronicles the development of conjunto music. The evening culminates in a blow-out concert featuring Nick Gaitan and Los Nahuatlatos, the next generation of Xicano fusion from South Texas. The event takes place Sunday, October 4, at 6:30 P.M. at the Fox Theater in downtown Tucson.
Click here for complete performance information, bios and headshots…
by Milta Ortiz and the Pastorela Ghost Writers
Directed by Eva Tessler and Marc Pinate
Live acaccompaniment by Gertie and TO Boyz
Temple of Music and Art Cabaret Theater
330 S Scott Ave
Tucson, AZ 85701
A Tucson Pastorela is back for its 19th year! This holiday tradition remains generously infused with farcical satire lampooning 2015's biggest political and pop cultural events.The shepherds and their flock embark on a harrowing journey to find el baby Jesus, but must make it past Lucifer and her minions' traps fueled by disguises. Archangel Michael and his sidekick Gabriel are in tow with a few disguises of their own to outsmart those nasty devils and help bring Christmas cheer!
Thursday, December 3rd: 7:30pm
Friday, December 4th: 7:30pm
Saturday, December 5th: 2pm Matinee and 7:30pm
Sunday, December 6th: 2pm Matinee and 7pm
Click here for more information

by award winning playwrights, Elaine Romero, Virginia Grise, and Martin Zimmerman Directed by Marc David Pinate
Staged outdoors on the grounds of the Tucson Convention Center, this theatrical spectacle brings to life the oral histories of Tucson's original Mexican American neighborhood demolished with the building of the convention center in the 1960s. Precious memories come to life as audience members take a theatrical tour of what used to be the bustling epicenter of commerce and public celebrations for Tucson's Mexican-American community (some seating is available.)
Four vignettes with performance installations encountered throughout the plaza culminate in an interactive post show pachanga: featuring folklorico and mariachi youth ensembles with interactive art and audio booths for all ages. Food for sale!
Location
Staged outdoors on the grounds of the Tucson Convention Center 260 S Church Ave, Tucson, AZ 85701. Two entrances: off of parking lot A, Church St. and parking lot C, Granada St.
Tickets
$10 suggested donation (no one turned away for lack of funds) at the entrance.
Due to the Donation base nature of this event, all ticket donations will be collected at the entrance on the day of the show only. We can accommodate up to 1,200 audience members per day. There will be no advanced reservations for this event.
Dates and Times
Thursday & Friday March 3 & 4 @ 10am
Saturday & Sunday March 5 & 6 @ 11am
More info
For questions about this innovative theatrical event please call our office at 520-882-8607. To learn more about the project visit the website at Barriostories.org
Click here for more information
Pachanga 2016
Our 30th season has been a huge success thus far! With a successful transition in leadership, incredible sold-out productions, and a surge of new energy this past year it's time to CELEBRATE!
Borderlands Theater is happy to invite you to our 2016 Pachanga! This year we're honoring board member, Catherene Morton, for her generous support in the last 30 years.
Join us in the heart of Barrio Viejo for a perfect evening under the stars. Ticket includes a scrumptious meal professionally catered by Perfecto's Restaurant, a ticket for one signature cocktail, music by DJ Q, and Santa Pachita! Come be in great company.
Saturday, April 9 at 6 PM
La Pilita
420 S. Main Ave.
Tickets: $65 a person or $480 for a full table of 8.
Pachanga Tickets!