2017-2018 Season
---
The Mermaid Hour
Written by
Directed by Glen Coffman
Temple of Music and Art Cabaret
March 15-April 1, 2018
Wed- Sat @ 7:30pm
Sun 2pm matinee
NNPN Rolling World Premiere of The Mermaid Hour- For Pilar and Bird, navigating their tween daughter Violet's transition is tricky as they juggle not only their own opposing parenting styles but her impulsive nature. Vi is just as concerned about her best friend Jacob, who she wishes was her boyfriend, and when nothing is going as she wants, she makes a YouTube video that pushes everyone's buttons. As her parents wrestle with all of Vi's choices, they confront the gaps between them as a couple--and which they'll have to overcome to see them all through.
The Mermaid Hour will be produced at Borderlands Theater as a part of a National New Play Network Rolling World Premiere. Other partnering theaters are Miracle Theater Group and Actors Theatre of Charlotte.
Click here for Artist Bio's and more!
---
Spring Tardeada
(a friendraiser for Borderlands Theater)
A FREE EVENT
Sunday April 8, 2018
2- 5pm
music, dancing, poetry, no host bar, bocaditos!
Featuring:
Spoken Futures Poets & Special Guests
Dance to live music by
THE KEY INGREDIENTS OF AFRICAN SOUL, a multicultural, high-energy band performing various styles of African folk, Afro-pop, Afro-Cuban and Afro-Caribbean rhythms!!
In the court yard of the Sosa Carillo Fremont House!
Event parking in TCC Lot C, Hotel Arizona and on surrounding streets.
Limited Seating available Please RSVP Here!
or Borderlands Theater's Box Office at (520) 882-7406
---
COMMUNITY BASED EVENT:
Barrio Stories in Barrio Anita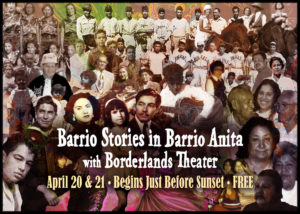 April 20-21, 2018
Barrio Stories celebrates and preserves the history and heritage of Tucson's historic Mexican-American barrios. Using a cross-sector process involving anthropologists, historians, youth, theatre makers, and community, the project is collecting oral histories from elders from "Barrio Anita" to create a site specific performance. The spectacle based performance will be a walking tour through the barrio where audiences walk through a series of theatrical installations. More information coming soon!