Borderlands Theater proudly announces its 30th season: Unearthing Humanity
WORLD PREMIERE


by Milta Ortiz
Directed by Marc David Pinate
September 10-27, 2015. Thurs-Sat at 7:30pm, Sun 2pm matinee.
Temple of Music and Art Cabaret Theater, 330 S Scott Ave, Tucson, AZ 85701
Based on a true story. A community struggles to hold onto their history, identity, and humanity as they fight to save Mexican American Studies in the Tucson Unified School District.
Más was commissioned and developed at Borderlands through a National New Play Network playwright residency. The script was further developed by a Tucson Pima Arts Council Individual Artist Grant, and was one of eight plays recently selected for the national Latino Theater Commons Carnaval play festival  in Chicago.
Click here for complete performance information, bios and headshots…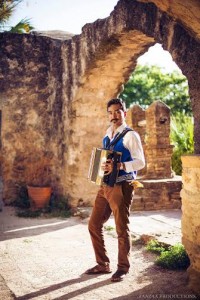 Written and Performed by Nicolas Valdez  with  guest musicians

Sunday, October 4
6:00pm Food Trucks! 7pm show!
Fox Theater
17 W Congress St, Tucson, AZ 85701
One night Benefit Fundraiser for Borderlands at the Fox Theater!
Tucson, put on those dancing shoes and prepare for an exhilarating evening where the past and future come together in perfect harmony. Borderlands Theater proudly presents CONJUNTO BLUES, a one-night-only extravaganza of South Texas theatre and music. The first half of the night features San Antonio based Nicolas Valdez's one-man show which theatrically chronicles the development of conjunto music. The evening culminates in a blow-out concert featuring Nick Gaitan and Los Nahuatlatos, the next generation of Xicano fusion from South Texas. The event takes place Sunday, October 4, at 6:30 P.M. at the Fox Theater in downtown Tucson.
Click here for complete performance information, bios and headshots…
by Milta Ortiz and the Pastorela Ghost Writers
Directed by Eva Tessler and Marc Pinate
Temple of Music and Art Cabaret Theater
330 S Scott Ave
Tucson, AZ 85701
A Tucson Pastorela is back for its 19th year! This holiday tradition remains generously infused with farcical satire lampooning 2015's biggest political and pop cultural events.The shepherds and their flock embark on a harrowing journey to find el baby Jesus, but must make it past Lucifer and her minions' traps fueled by disguises. Archangel Michael and his sidekick Gabriel are in tow with a few disguises of their own to outsmart those nasty devils and help bring Christmas cheer!
Thursday, December 3rd: 7:30pm
Friday, December 4th: 7:30pm
Saturday, December 5th: 2pm Matinee and 7:30pm
Sunday, December 6th: 2pm Matinee and 7pm
Click here for more information

by award winning playwrights, Elaine Romero, Virginia Grise, and Martin Zimmerman Directed by Marc David Pinate
March 3 – 6, 2016.
Locations to be determined. Additional indoor performances with seating will be held for patrons with mobility issues.
Borderlands breaks new ground with a site-specific theatrical event full of spectacle: the Barrio Stories Project by award winning playwrights, Elaine Romero, Virginia Grise, and Martin Zimmerman. Involving communal memory, food sharing, and reclaiming of space, this cutting-edge event brings to life the oral histories of former residents of the neighborhood demolished with the building of the Tucson Convention Center in the 1960s. Borderlands plans to stage the play outdoors, on the grounds of the Tucson Convention Center. Precious memories come to life as audience members walk approximately a tenth of a mile on a tour of what used to be the bustling epicenter of commerce and public life for Tucson's Mexican-American community (some seating is available.) The Barrio Stories Project is an innovative creative placemaking effort to activate underutilized spaces through partnerships between arts, educational, community, and civic institutions, while preserving Tucson's Hispanic heritage.
NNPN ROLLING WORLD PREMIERE


by Hilary Bettis
Directed by Barclay Goldsmith
April 14-May1, 2016
Temple of Music and Art Cabaret Theater, 330 S Scott Ave, Tucson, AZ 85701
Closing the season with a bang is a National New Play Network Rolling World Premiere, Ghosts of Lote Bravo, developed at the Juliard PlayLab and Kennedy Center, among other places, by rising star Hilary Bettis. Juanda Cantu's daughter, Raquel, has disappeared in the desert outside Ciudad Juarez. Through visions offered by La Santa Muerte, Juanda is shown Raquel's past only to discover that her daughter had hopes, dreams, and courage Juanda knew nothing about.