Borderlands Theater strives to build equitable, joyful, and meaningful collaborations with the local community through innovative theater and responsive cultural programs ingrained in the heritage, narratives, and lived experiences of peoples rooted across the Sonoran Desert.
---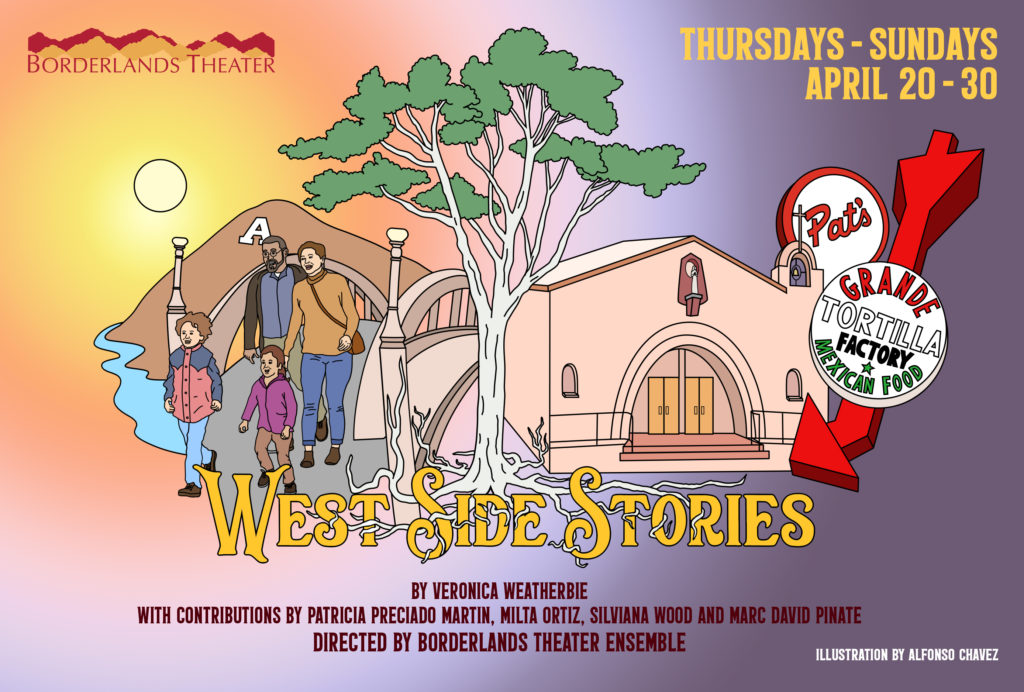 WEST SIDE STORIES
by Veronica Weatherbie
with contributions by Patricia Preciado Martin, Milta Ortiz, Silviana Wood and Marc David Pinate, edited by Milta Ortiz
directed by Borderlands Theater Ensemble
Thursday- Sunday April 20th-30th, 2023
Pre-show Picnic and Activities start at 6:00 pm
Main Stage Show 7:45 pm
Choose what you pay
Bonita Park
20 N Bonita Ave, Tucson
A theatrical festival celebrating Tucson's west side heritage and cultural pride. Offering audiences, a chance to eat alfresco with loved ones, check out an interactive game show, engage in a heritage talk circle, walk through an augmented reality installation and experience a local story told through shadow box installations. All of that before the play begins!
Bring your nanas, your kids, your neighbors, your classmates. Fun for all ages!
We invite you to make a special family recipe to enjoy with family and friends at the event or pick up dinner to go from a legacy West Side restaurant like Pat's, Tania's, St. Mary's, or Mariscos Chihuahua! Or show up and buy dinner from local food trucks.
Bring chairs, blankets, ice chests—it's a park! This is a no alcohol event.
Online reservations encouraged. http://bit.ly/3J8DSQQ First come first serve. Free parking available in Bonita Ave lots. Accessible by bus lines 21 & 22.
Please contact our office for accessibility accommodations (520)276-9598.
Click here to visit West Side Stories webpage!
---
From Our YouTube Channel
Watch west-sider Clarissa Rodriguez talk about representing her barrio as an actress in West Side Stories!