---
2017-2018 Season
Latin Standards
Written and Performed by
Marga Gomez
Directed by David Schweizer
Steinfeld Warehouse
101 W 6th Street, Tucson, Az 85701
February 14 - 18, 2018
"Vibrant....winning heart and humor. Critic's pick!" — The New York Times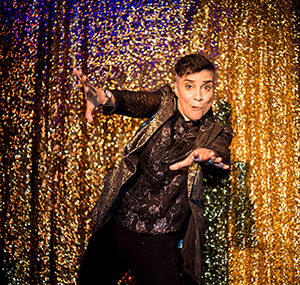 In her 12th solo play GLAAD Award winner, Marga Gomez performs the loving, funny and true story of perseverance and creative addiction passed down from immigrant father to lesbian daughter. Mixing nostalgia, social commentary and comic edge, Gomez portrays herself as a driven adult child of a blustery Cuban showman. As an impractical tribute to his memory, she defies reason and launches a hipster comedy night at "Esta Noche," a doomed Mission district drag club, during the onset of San Francisco's gentrification crisis. As the story unfolds Gomez muses "Esta Noche might smell like bleach and urinal cake now but I'll just buy all the potpourri in town. Because my father taught me you have to spend money to make money!"
Between vivid portrayals of characters from 1960's Manhattan to present day San Francisco, Gomez ponders the ballads (or Latin Standards) penned by her late father Willy Chevalier: a comedian/producer/entrepreneur and composer of dance tunes steeped in jealousy and obsession. The world premiere of "Latin Standards" took place
Off-Broadway in January 2017 at The Public Theater's "Under The Radar Festival." "Latin Standards" has since been presented at Chicago's Urban Theater, at The Los Angeles Theater Center's "Encuentro De Las Americas," an international festival, at Segerstrom Arts Center in Costa Mesa, CA, and at American Repertory Theater's "Glowberon Series" in Cambridge, MA. "Latin Standards" made its official San Francisco premiere in January of 2018. The performance runs 80 minutes with no intermission.
---
Introduction to Commedia dell'Arte
Monday, February 19 - Thursday, February 22nd
6:00-8:30pm
This workshop features an exploration of the masks, stock characters, and scenarios of classical Italian Commedia dell'Arte through a contemporary approach. Participants will be introduced to the physical technique, character based improvisation, nimble pace, and riotous fun of the form.
Claire Marie Mannle has her MFA from the Dell'Arte International School of Physical Theater and her BA from Smith College. She came to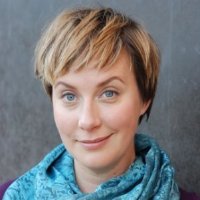 Tucson via Los Angeles where she worked with The Grand Guignolers, Cornerstone Theater Company, the Antaeus Academy, and SITI Company. Around town she has worked with Arizona Repertory Theatre (The Comedy of Errors, The Tempest), The Rogue Theatre (White Snake, Macbeth, The Grapes of Wrath) and The Scoundrel and Scamp Theatre (Two Plays for Lost Souls: The Yellow Wallpaper). She has taught Commedia dell'arte at Interlochen Arts Camp, A Noise Within, and The University of Arizona where she is an Instructor for the School of Theatre, Film and Television.
The Workshop is $65.00. Please call Borderlands Theater at 520-882-8607 to reserve your place or email: sharkey@borderlandstheater.org
---
The Mermaid Hour
Written by
Directed by Glen Coffman
Temple of Music and Art Cabaret
March 15-April 1, 2018
NNPN Rolling World Premiere of The Mermaid Hour- For Pilar and Bird, navigating their tween daughter Violet's transition is tricky as they juggle not only their own opposing parenting styles but her impulsive nature. Vi is just as concerned about her best friend Jacob, who she wishes was her boyfriend, and when nothing is going as she wants, she makes a YouTube video that pushes everyone's buttons. As her parents wrestle with all of Vi's choices, they confront the gaps between them as a couple--and which they'll have to overcome to see them all through.
The Mermaid Hour will be produced at Borderlands Theater as a part of a National New Play Network Rolling World Premiere. Other partnering theaters are Miracle Theater Group and Actors Theatre of Charlotte.
---
COMMUNITY BASED EVENT:
Barrio Stories in Barrio Anita
April 20-21, 2018

Barrio Stories celebrates and preserves the history and heritage of Tucson's historic Mexican-American barrios. Using a cross-sector process involving anthropologists, historians, youth, theatre makers, and community, the project is collecting oral histories from elders from "Barrio Anita" to create a site specific performance. The spectacle based performance will be a walking tour through the barrio where audiences walk through a series of theatrical installations. More information coming soon!