Borderlands Theater proudly announces its 29th season with three exceptional productions- two of them World Premieres and one performed alternately in English and Spanish- that explore the bonds of love, solidarity and memory between individuals, their families and their communities.
Absence/El Ausente
ABSENCE/EL AUSENTE
by Victor Hugo Rascon Banda. Translated by Caridad Svich
Directed by Eva Tessler & Victor Carpinteiro
In this drama by one of Mexico's most prolific and widely produced playwrights, three generations of a Mexico City family endure the absence of a son, husband, and father who has left for the United States in search of work. As the family's situation deteriorates, a sighting of their absent loved one catapults the play to its surprising ending.
Only two special performances left!
CENTER FOR GLOBAL JUSTICE- 225 E 26th St.
2/27 & 2/28 SPANISH PERFORMANCES / ACTUACIONES EN ESPAñOL 7:30 pm.
Donations Accepted / Donaciones Aceptadas.
Border's Edge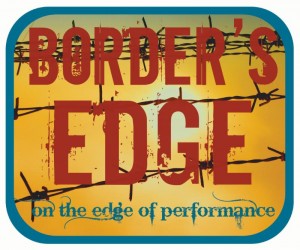 Border's Edge: On the Edges of Performance
Thursday, March 5 7pm.
Showcasing Tucson's avant guard performance community: Enrique Garcia, Natalie Brewster Nguyen, Milta Ortiz, Logan 'Dirtyverbs' Phillips, Serena Tang, Denise Uyehara, & Karen Falknstrom
The stellar showcase features a mind-bending, interdisciplinary, multimedia experience with performers, as living museum pieces, taking over the outdoor courtyard of Borderlands Theater's office building.
Interdisciplinary artist Denise Uyehara, with musical accompaniment by Karen Falk-nstrom, explores Okinawan identity and "authenticity" while wearing a paper kimono with 20 foot arms in a performance titled, Jomon/Jámon. Milta Ortiz examines marriage and feminine identity in her experimental performance piece. Natalie Nguyen and Selena Tang of Flight School Acrobatics perform a duet called Double Crossers that plays with twins, acrobatics, and the Asian female action heroine archetype. Interwoven throughout the night, spoken word poets Enrique Garcia and Logan Philips read from their recently published books, Tortoise Boy Says and Sonoran Strange, respectively.
A departure from the traditional theatre productions that Borderlands is known for, Border's Edge seeks to build bridges to these alternative styles of performance, introducing long-time patrons to new forms while attracting new audiences to the 29 year-old theatre company. Border's Edge is a fundraiser for Borderlands Theater. All performers have generously donated their time and creative efforts.
Come see the spectacle, reflect on the meaning!
Click here for performer bios, photos and more…
River City
WORLD PREMIERE
RIVER CITY
by Diana Grisanti
Shaken by her father's death, Mary sets off to uncover three generations' worth of secrets buried in the West End of Louisville, Kentucky. River City charts Mary's discoveries, which span four decades, and investigates race, memory, and the ghosts that haunt one American family.
April 9 through April 26.
Performance times are Thursday through Saturday at 7:30 P.M. with Sunday matinees at 2:00 P.M. Opening Night $24, General $20, Senior $17, Student $14 (group rates and various discounts available) Please call the Borderlands Box Office (520)882-7406 to make your reservations.
ZUZI'S Theater, 738 N. 5th Ave,
All performances will be at ZUZI, 738 N. 5th Ave. Tickets can be purchased online here or by phone at (520) 882-7406. For more information please call (520) 882-8607. Season subject to change.acione
Special Borderlands Updates
BORDERLANDS THEATRE COMPANY REPLACES FOUNDING PRODUCER-DIRECTOR
Marc Pinate has been selected by the Borderlands Theater Company Board of Directors to succeed founder, Barclay Goldsmith, as the company's new Producing Director.Pinate has been working at Borderlands for the past year as an artist in residence. Before officially beginning his new post on November 15, Pinate will be working with Goldsmith during his transition to retirement after 29 years leading the company to prominence. Read more…
BORDERLANDS THEATER WINS PRESTIGIOUS $50,000.00 GRANT TO LAUNCH "BARRIO STORIES PROJECT"
Borderlands Theater has been chosen to participate in the A-ha! Program: Think It, Do It, funded by the MetLife Foundation and administered by Theatre Communications Group, the national organization for the professional not-for-profit American theatre. Led by new Producing Director,Marc David Pinate,the Barrio Stories Project will utilize cross-sector partnerships to collect oral histories from the residents of Tucson's historic barrios. These narratives will be theatricalized and performed in sight-specific locations. The first iteration of the initiative will focus on Barrio Libre, Tucson's original Mexican-American enclave that was demolished with the construction of the Tucson Convention Center. Pinate hopes to enlist the cooperation of the city and perform the work on the grounds of the Tucson Convention Center with promenade style staging. The play will open in March, 2016 as part of Borderlands' 30th anniversary season. Read more…
Link to Metlife/TCG A-ha! website announcement page