Standing With Saguaros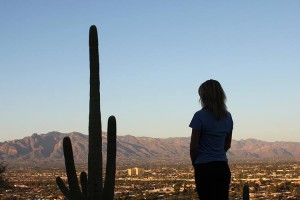 Act I: I Stand with Saguaros
#IStandwithSaguaros is a campaign to befriend, support, and connect with the saguaro cactus (Carnegiea gigantea) iconic species of the Sonoran Desert. If you stood with a saguaro cactus for an hour, what would you discover? Try it.
Choose a group to participate in for a group stand in Saguaro National Park
– April 16: Sunrise 6-7:30am Saguaro National Park West #IStandwithSaguaros Sunrise Opener
– April 23: Sunset 5:30-7pm Saguaro National Park East (Featuring local musicians)
– May 1: Sunset 5:30-7 Saguaro National Park West (Featuring Tucson poets & writers)
– May 7: Morning 7:30-9am Saguaro National Park East (Featuring Tucson communities of faith)
– May 15: Morning 7-8:30 am Saguaro National Park West (Featuring artists from The Drawing Studio)
– May 29: Sunset 6-7:30 pm Saguaro National Park East
Sign up Here!
Or Go on your own, or with friends to Saguaro National Park
STAND (or sit) with a saguaro for an hour (if you can).
POST your discoveries and a photo of you and your saguaro with #IStandWithSaguaros to Facebook, Twitter, Instagram, etc. Additional identifiers: #SaguaroNationalPark #BorderlandsTheater #ImagineYourParks #NPS100 and on Twitter @BLTheater, @SaguaroNPS, NEAarts
Why?
Because you're willing to try anything once.
Because you've heard that standing or sitting still for a while in quiet contemplation can help reduce stress and contribute to your overall health.
Because you want to experience a new kind of theater, one in which performers and audience members are non-human.
Because …
Try it and tell others why!
April 16 – May 31, 2016
Saguaro National Park West
2700 N. Kinney Rd.
Meet at the Red Hills Visitor Center
Saguaro National Park East
3693 S. Old Spanish Trail
Meet at Rincon Mountain District Visitor Center
Sign Up: Here!
**Additional group stands can be scheduled. Contact Kimi Eisele to facilitate.
Free! Fees to enter Saguaro National Park are waived if you say you are "standing with a saguaro." However, we encourage a $10 donation (which you can offer at the entrance kiosk or in the visitor center) to help protect public lands and wilderness areas.
For more information visit: www.StandingwithSaguaros.org