Beginning a Beautiful Relationship
This past November 2nd, Dia de los Muertos, about 300 people – from babies to great grandparents – came out to Oury Neighborhood Center in Barrio Anita to honor the dead in the form of an old-school community dance under the stars. This was what the creators hope will be the first annual Baile Calavera. To say the event was a success is only half the story. Yes, the basketball court was packed with people dancing, conversing, eating, visiting the altar decorated by children who took the afterschool altar building workshop. The other half of the story, which explains how we got to this remarkable event, is just as important because it provides a snapshot of the kind of work the staff and artists at Borderlands have committed themselves to – work that goes beyond art making, into the roll-up-your-sleeves kind of community building that connects people and develops leaders.
Back in 2017, when Borderlands artists first began buzzing around the Oury Center in preparation for Barrio Stories in Barrio Anita, Miguel Garcia, Oury's assistant program coordinator, and program coordinator, Jeremy Herr, would sometimes look at us with a mix of astonishment and bewilderment as we talked about giant, 25 foot wide video projections and asked if they could keep the center open until almost midnight during tech rehearsals. The scale (and success) of Barrio Stories, an event that brought about 1000 people to the neighborhood each night, excited Miguel and in his words, "lit a fire," that inspired him. Recently transferred from another neighborhood center, Miguel confided that Barrio Stories allowed him to meet many residents in Barrio Anita. I don't know if he and Jeremy would have planned the outdoor movie nights that followed or partnered with the neighborhood association (reestablished just a few weeks after Barrio Stories), or Davis School, or Anita Street Market for numerous events had they not experienced Barrio Stories. Maybe so, but Barrio Stories set a benchmark of what was possible, not just logistically, but in the sense of bringing people out of their homes in the spirit of barrio heritage and communal bonds – necessary prerequisites to organizing.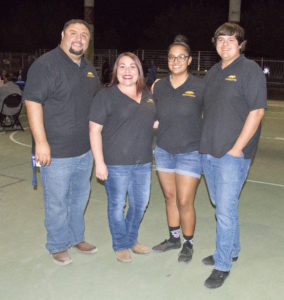 The need to bring the community out, to "come out" and see each other, following a barrio tradition of gathering outdoors with music and dance is what started the idea of a free dance percolating in Miguel's mind.  He brought it up last summer, after Borderlands Theater and Oury Neighborhood Center had partnered on a Tardeada event as part of the re-opening of Oury Pool celebration; and after we had collaborated on a six week shadow puppetry workshop for the afterschool youth the previous spring; after we'd completed a creative placemaking training program in Phoenix together – the Arizona Creative Communities Institute a program of the Arizona Commission on the Arts; and after countless meetings and phone calls and emails… all the stuff of working together and building trust between our organizations and the people who made them up.
Trust is truly the glue that holds relationships together. "I wouldn't do this with just anyone," Miguel told me recently. As something new and different, there was a likelihood of challenges and hick ups. For the first time both organizations were not only planning together and sharing in-kind resources, but actual costs as well. For better or worse, money often brings the true test of a partnership. Challenges open space for partners to step up to keep the train moving. People like Jeremy Herr, another Parks and Rec staff member I've gotten to know well, who went to bat for the event with Parks and Rec upper management. These are the make or break moments when people working in separate organizations can start to see themselves in each other – In Lak Ech.
Though I've said a lot about the growing relationship between Oury Neighborhood Center and Borderlands Theater, other relationships developed through Barrio Stories came into play for this event.  Tanya Moreno, a resident who runs a newly formed calpulli (Mexica dance group) in Barrio Anita and was key consultant on Barrio Stories, blessed the altar at the start of the event.  Through Tanya's employer, Primavera Foundation, Miguel Garcia and Barrio Anita president, Gracie Soto, attended leadership trainings in Chicago earlier this year.  Ward One, a major partner in Barrio Stories who forged new and deeper connections in Barrio Anita because of that project, provided the required police security for the dance (shout out to our new mayor elect, former Ward One Council Member, Regina Romero!), and Davis Bilingual's Los Agilitas mariachi, who has performed for free at many Oury events, kicked off the night's music while parents sold food as a fundraiser for Davis' award-winning music program.
So what do these relationships add up to?  In a time when working families are getting fewer resources, when public education is underfunded and the majority of arts funding still disproportionately goes to large white institutions it is necessary to have friends. To know who's got your back. Together we can build things that will sustain us, open our hearts, preserve our heritage, and get us through the hardest parts of life. 
-Marc David Pinate,
Tucson November, 2019