Sonoran Shadows
This program was made possible by Arizona Humanities
October 14-15, 2016
By Milta Ortiz
Excerpted and adapted from Patricia Preciado Martin's El Milagro and Other Stories
Art Direction by Cristina Cardenas
Directed by Marc David Pinate
Los buquis (kids) from the ol' neighborhood have front row seats to Nana's Sunday Matador ritual, a girl who always wanted to be a dancer, a flash flood in all its glory, and other local folktales come to life through the magic of shadow puppetry. Experience, reminisce and celebrate the richness of Tucson's Sonoran heritage.
Sonoran Shadows is a captivating shadow play based on Patricia Preciado Martin's short stories and local folktales. This ritual of remembrance takes its form from the ancient Balinese shadow tradition still active today. Activities begin at sundown with a blessing by Aztec dancers, Xochilpilli Centeotl, followed by a brief pre-show discussion with author Patricia Preciado Martin. Also featuring two shadow plays by students from Borderlands Theater's shadow theatre workshop in collaboration with Tucson High Drama Department. Bring your lawn chairs, blankets, and snacks to this never before seen spectacle! Please help spread the word!
Performance Schedule and Ticket Information:
Based Event ($10 Suggested Donation)
No one Turned Away for Lack of Funds – Pay What You Can
Friday, October 14th, 2016
sundown (6pm)
@ Armory Park Band Shell – 221 S. 6th Avenue
&
Saturday, October 15th, 20163
sundown (6pm)
@ Oury Recreation Center – 600 W. St. Mary's Road
---
Marc David Pinate
(DIRECTOR) is a theatre artist, musician and educator. His acting career includes work with Teatro Visión, Shadowlight Productions, Su Teatro, Campo Santo and the Magic Theatre where he played the role of Tiresias in the world premiere of Luis Alfaro's award winning play, Oedipus El Rey. As a director he has worked with El Teatro Campesino and Stanford University in California; Steppenwolf and American Theatre Company in Chicago; and Arizona Theatre Company to name a few. His directorial aesthetic merges performance and the sacred to create liminal spaces where experiments with form and physicality engender affective moments of beauty and healing. Marc was the recipient of a three-year directing residency funded by the Doris Duke Foundation at La Peña Cultural Center in Berkeley, California. During his residency he founded the Hybrid Performance Experiment (The HyPE) known for their guerrilla theatre performances on Bay Area Rapid Transit trains and mall food courts. Marc was a member of the spoken word troupe, Chicano Messengers of Spoken Word for which received a National Performance Network commission in 2004 to co-author Fear of a Brown Planet. He is a National Slam Poetry Champion and fronted the band, Grito Serpentino, a spoken word and music ensemble that toured throughout the country and produced two albums. Marc was a program director at Movimiento de Arte y Cultura Latino Americana, a Latino arts center in San Jose, California and at the historic, Galería de la Raza, in San Francisco. He's taught acting at San Jose State University's department of Television, Radio, Film and Theatre. In June 2013, he completed an MFA in Directing from The Theatre School at DePaul University in Chicago where he directed Terell Alvin McCraney's In The Red and Brown Water as his thesis project.
---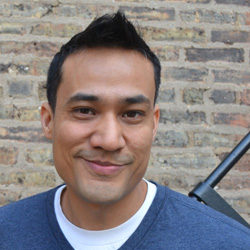 Milta Ortiz
(PLAYWRIGHT) is a playwright from the Bay Area now in Tucson by way of Chicago. Currently working on Solving for X (playwright/director) for the Working Classroom, 20th Annual A Tucson Pastorela, and Sanctuary. As an NNPN playwright in residence at Borderlands Theater, she wrote and developed Más, selected to the Latino Theater Commons Carnaval play festival, and premiered at Borderlands Theater in fall 2015, nominated for an American Theatre Critics/Steinberg New Play Award and Citations, and a Tucson Mac award for best drama. Más was co-produced in the Bay Area by Laney College in March 2016 and Ubuntu Theater Project in May 2016 and will go on an Arizona University tour in the 2016/17 season. Other produced plays include Sonoran Shadows (a shadow play,) 19th Annual A Tucson Pastorela, Disengaged, 18th Annual A Tucson Pastorela, Fleeing Blue (university production,)Scatter My Red Underwear. Milta worked extensively as a teaching artist and received individual artist grants to write, develop and produce her solo work in the Bay Area. As a founding member of the HyPE theater ensemble in the Bay Area, she devised pieces to be performed site specifically and on stage. She teaches theater at Pima Community College. Milta earned an M.F.A. from Northwestern University's Writing for the Screen and Stage program and a Creative Writing B.A. from San Francisco State University. Milta's day job is Marketing & Outreach Director at Borderlands Theater. She's worked as a teaching artist for over 6 years and occasionally moonlights as such. She is proud to be mommy to a bubbly toddler.
---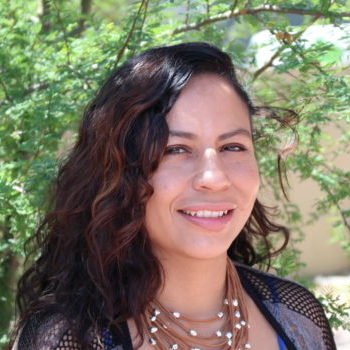 Cristina Cárdenas
(ARTISTIC DIRECTOR) Born in Guadalajara, Mexico, Cristina Cárdenas studied art there (B.A. in painting in 1980) and at the University of Arizona, Tucson (M.F.A. in printimaking in 1990). In 1994 she completed a ceramic mural for a minimum security prison in Tucson. She has won many regional awards. Cardenas currently resides in Tucson. Cristina developed her approach to art following the tradition of the Mexican muralists. Through her friendships with Arizona artists Luis Carlos Bernal, Alfred Quiroz and Luis Jimenez, Cárdenas began to tackle issues of a more political and personal nature using Amate paper as a vehicle to connection with the ancestors. The Amate paper is made from the same Aztec recipe the Otomi Indians used for several centuries. Her large-scale works on Amate paper reflect Cárdenas' desire to link earth to soul.
---
Patricia Preciado Martin
(AUTHOR) is a native Arizonanan and lifetime Tucsonan. She graduated Magnna Cum Laude from the University of Arizona in 1960. After teaching in Riverside, California she served in the Peace Corps in Belize, Central America, where she met and married fellow volunteer, Jim Martin. They returned to Tucson in 1969 when her husband became part of the original faculty of Pima College. A homemaker and stay at home Mom, Patricia had her first book, a bilingual children's story titiled "The Legend of the Bellringer of San Agustin," published in 1979. She has spent the last 25 years documenting the history, culture, and traditions of Mexican American in Arizona through her non fiction and fiction books. She has had six books published by the University of Arizona Press including three oral histories and three collections of short fiction. Her three non fiction works include – Images and Conversations: Mexican Americans Recall A Southwestern Past"; Winner of the McCormick Scully Award the year of it's publication (Best history by a chicana/o author "Songs My Mother Sang to Me: An Oral History of Mexican American Women"; and "Beloved Land" which as published in 2004. Her short story collections, all published by the University of Arizona Press, are "Days of Plenty Days of Want; "El Milagro and Other Stories"; and "Amor Eterno; Eleven Lessons of Love", winner of winner of the Southwest Book Award for fiction.
Patricia served as a Arizona Humanities Council Speakers' Bureau for ten years. She has received many honors, including U of A Hispanic Alumni Distinguished Service Award; Arizona Library Association Arizona Author of the Year; Arizona Humanities Council Distinguished Public Scholar; Mujer 2000 Committee Award; UC Irvine Chicano/ Latino Literary Award; Salpointe Alumni Hall of Fame and the Sharlott Hall Museum Hall of Fame.
---
Gabriela Hurtado-Ramos
(ART DIRECTION AND CO-WORKSHOP INSTRUCTION) is a visual artist and recent college grad from Houston, Texas. She attended Oberlin College in Ohio where she majored in Studio Art. Her drawings, prints, artist's books and animations explore issues of immigration, the border, and mass-incarceration. She is very excited to be working with Borderlands again as the bookkeeper, a teaching artist, and continuing graphic designer.
---
Perla Vanesa Barraza
(PUPPETEER) is a #DREAMER that hopes to work with youth through the performing arts in order to inspire self-confidence and higher education. Her passion for theater, youth advocacy, and social justice has led her to be part of Borderland's productions of Ghost of Lote Bravo, Más and El Ausente. She has collaborated with Stories That Soar as a performer and teaching artist. She began her acting career at Pima Community College where she performed in Antigone and Anything Goes.
---
Julian Cardenas
(PUPPETEER) is excited to be part of Borderlands Theater's 2016-2017 Season!
Julian is a senior at the University of Arizona working towards a Bachelor of Arts Degree in Theatre, a Bachelor of Arts Degree in Latin American Studies, and a minor in Spanish. Julian is eager to perform, to make people think, and to make people laugh. He is also interested in directing/playwriting/blogging/journalism/youtubing. Follow him and his latest antics on Twitter at @juelztheking_
---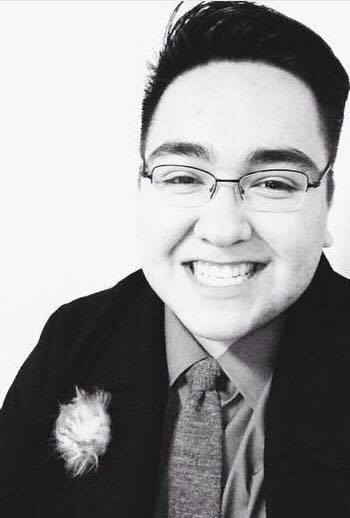 Angelina Duarte- Cooper
(PUPPETEER) is 21 years old, a senior at the University of Arizona and is earning her Theatre Arts degree in May. This is her fourth production working with Artistic Director, Marc Pinate. This fall semester she has the opportunity to broaden her experience through the Sonoran Shadows puppet show. After graduation, she wishes to pursue her dream of becoming a theater teacher and travel abroad. Angelina wishes to thank Borderlands for giving her the opportunity to work in theater in a way that is involved with the Tucson community, as well as her friends, family and peers for the encouragement they have given her.
---
Raul Andy Gonzalez
(PUPPETEER) Ghosts of Lote Bravo was Andy's first official acting role with Borderlands. Over the past year, Andy has been working with Borderlands as a Production Associate, working both front and back of house positions. Andy's interest in Stage Combat is rooted in years of Martial Arts training and flourished after studying with Brent Gibbs at the University of Arizona. During this time he became a certified Stage Combat practitioner with the Society of American Fight.
---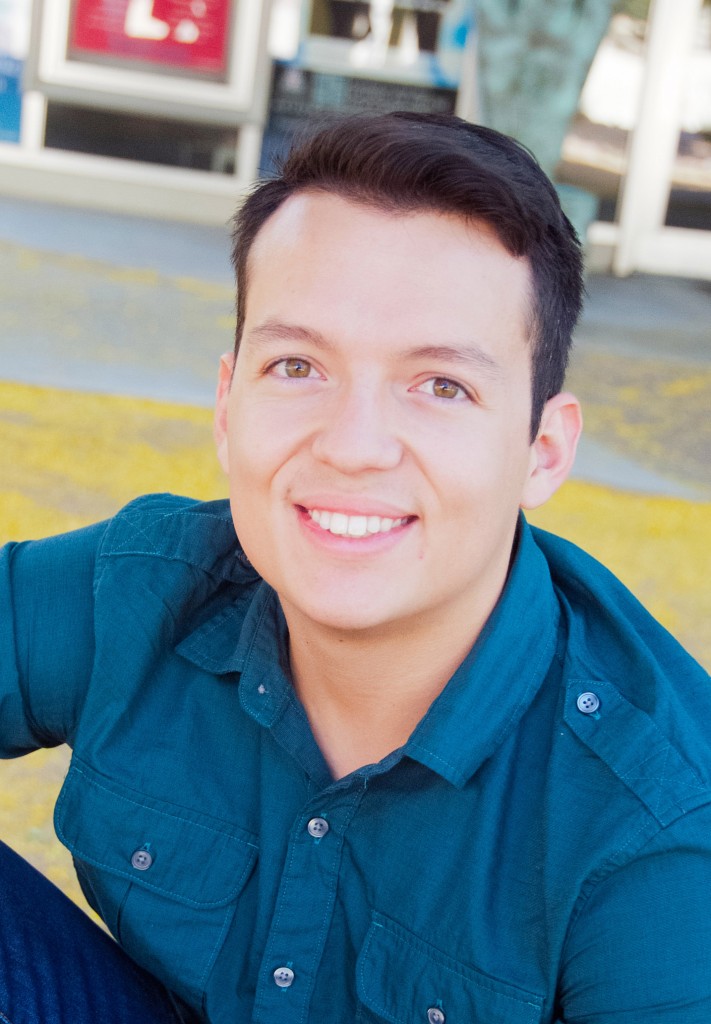 Heather Gray
(Lighting and Sound Board Operator)
is an artist, educator and collaborator working at the intersections of digital and experimental media, food justice, and sustainability. She is from Arizona and received a BA in Art and Spanish in 2006 from the UofA. She has internationally exhibited large-scale projection installations, performances, and video art. She has also worked as a videographer, journalist and engagement coordinator for a research center supporting interdisciplinary arts, humanities and social sciences. She is proud to be involved in Borderlands Theater's innovative work.
---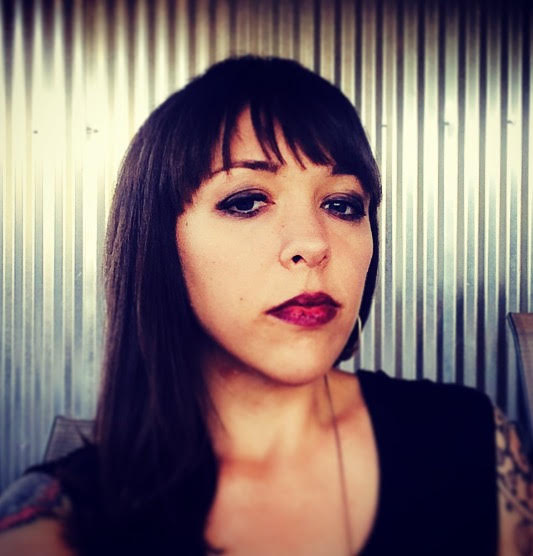 Desiree M. Heredia
(PUPPETEER) aka DJ Aqua is a 21 year-old DJ and music producer born and raised in Tucson, Arizona. She DJ's at venues ranging from underground parties to opening for national touring acts at the Rialto Theater, and is also a resident DJ at El Tambó, Arizona's largest tropical danceparty, held at Hotel Congress in Tucson. DJ Aqua aspires to bring audiences into the present moment, celebrating themselves and all those around them. Always having a passion for theatre, she has begun working on a few projects in theater as well.
---
Gregory James Houston
(TECHNICAL DIRECTOR) is a recent graduate of the University of Arizona; he graduated with a BFA in Technical Theatre Production with an emphasis on Design. Gregory James Houston feels excited and privledged to be lighting designer and technical director for Nogales, after his work on Ghost of Lote Bravo and Barrio Stories. He would like to thank everyone involved with Borderlands and his extremely supportive friends and family.
---
Building Crew
Necholas Alverado
Leah Arreguin
Angie Duarte-Cooper
Sean Du Pont
Leticia Gonzalez
Heather Gray
Lance Guzman
Melanie McCarville
Emilio Ozuna
Leslie Soto
---
Tucson Magnet High School
DRAMA INSTRUCTOR
Julian Martinez
---
WORKSHOP CLASS
Ysiyamilet Cardenas
Kamrin Dalis
Daniel Esparza
Max Godfrey
Fiona Goodsite
Michael Lujan
Sammy Mirazo
Jazmin J. Morales
Gabriella Sena
Vanessa Valdez
Mackie Valencia
Priscilla Velasquez
Blaise Yeater
---