A New Play by Obie Award Winner Luis Alfaro
(McArthur Foundation Fellow)
Directed by Eva Zorrilla Tessler
From the critically acclaimed writer of Oedipus el Rey and Electricidad, comes a contemporary Chicano re-imagining of Euripides' Medea.  This haunting and sensual story brings powerful tides of indigenous magic to conjure the wrath of a woman scorned, as it explodes an ancient myth most firmly embedded in our culture.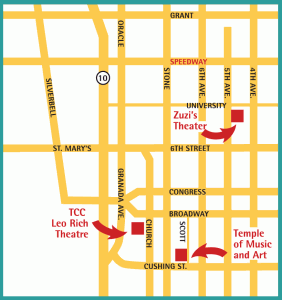 COMMUNITY PARTNER: University of Arizona College of Humanities
SPONSORED IN PART BY: Arizona Commission the Arts, Tucson Pima Arts Council, and National Endowment for the Arts
MARCH 28 – APRIL 14, 2013
CABARET THEATER
330 S. SCOTT (Temple of Music and Art)
PRODUCTION NOTES
Catherine María Rodríguez, Dramaturg
The latest installment in playwright Luis Alfaro's adaptation of Greek tragedies, Bruja blends indigenous traditions with ancient mythos to arrive at a distinctly Chicana/o reimagining of Medea. Our tragic heroine takes root in the heartbreak of La Llorona, the legendary scorned lowly lover who drowns her children, and the infamy of La Malinche, renown as the mother of mestizos and a traitor to her pueblo for her historical role as interpreter and mistress to the conquistador Cortés.  Set in a familiar Southwestern landscape, the characters of Bruja are all Latin-American immigrants in exile with varying attitudes towards assimilation and differing documentation statuses. Medea and her family experience environmental oppression as they suffer from lack of support from both the Anglo and Latina/o communities. The conflation of Western ways with modernity and progress leads to the stigmatization of and disconnection from the traditional lifeway that the curandera Medea embodies. As this immigrant community's values shift, Medea finds herself tragically misunderstood and disregarded as both society persecutes her and the state would prosecute her.
But, in this sad and all too recognizable narrative, Medea refuses her victimhood. Combatting the structural violence of a society obsessed with patrolling cultural borders, Medea claims agency as she refuses to be made invisible. Although her actions prove fatal, Medea's fantastical escape—like her ability to heal—comes from within. In this, Bruja weighs physical death against spiritual and cultural murder, challenging us to reconsider the traumas of stigmaand parting ways with tradition and other parts of ourselves.  Are these the acts of sacrifice? Slaughter? Betrayal? What do we lose and what do we gain in the process of settling down in a new place and setting down old ways? Though her actions may seem reckless or even monstrous to some, our Medea remains a tragic heroine for her powerful defense of self in an environment hostile to her mere existence.
Medea
Mike Lippman
Euripides produced the Medea in 431 BC as part of the yearly dramatic festival competition in Athens right around the beginning of the Peloponnesian War between Athens and Sparta.  The play, however, came in dead last.  Nevertheless, Euripides won out in the end, for the Medea ended up as one of antiquity's most popular and influential plays of all time.  In the original, Euripides does some of the things for which he is most famous; he brings mythological characters into a more realistic light, focuses on women and the erotic life and delves deeply into the human psyche.  Here, most particularly, he flips a familiar legend on its head.  Medea, who may have been the villain in earlier versions, now becomes more of a sympathetic character.  The (notionally male) audience is made to feel sympathy for this foreign and barbaric woman that, at first glance, might seem as far away from them as can be.  She is tossed aside by Jason (of the Argonauts fame), the man for whom she had sacrificed everything of her former life, betraying her father and going so far as to murder her own brother to aid him in his quest for the Golden Fleece.  When he pursues a new bride (and the power this new bride represents) instead of her, Medea chooses to exact the worst vengeance she can conceive; she kills his new bride and father-in-law (which many modern readers are capable of overlooking), but then continues on to murder her own children as a final act to bring down the man she once loved.
One of the reasons that the Medea remained so powerful a play from Euripides to Alfaro is the questions it raises about the erotic world and the role of women within it.  We enjoy the idea of love being the most powerful emotion when things are going well…but what about when things don't go well?   Does the opposite apply?  Should love really overpower everything?  Is this not dangerous?  Also, can love be controlled?  Are we able to think rationally when in love, or does love mean we are no longer in our regular state of mind?  Is it a force beyond our control, or is it something we should be able to have rules and commitments about?  Can we treat our love affairs as if they were a business, where if one person sacrifices and dedicates themselves to the other, does the recipient owe anything to his lover who worked so hard on his/her behalf?    Is love permanent?  If we admit it is not, have we pretty much destroyed the concept of marriage and commitment?  Can we raise families when love is so fickle?  Under what rules do we determine a man's role versus a woman's role in an erotic relationship?  Is it a woman's job to sacrifice all for her man and her children?  How does one draw the limits?  Where does one's career fit in when considering love?
Most importantly, the Medea asks this:  What can you do when your lover, the person on whom you count the most, has betrayed you?  Once you are left alone, abandoned and exiled from all you knew, what sort of justice are you due?
In the end, the Medea is not a justification of child murder.  Rather, it is a psychological study of heartbreak; one that makes you consider deeply whether or not all the benefits one reaps from a deeply passionate relationship is ultimately worth the pain that follows its dissolution.  Euripides may not be saying that erotic relationships are purely negative, but he does indicate in no uncertain terms that the stakes for which we play are indeed very, very high.
Luis Alfaro
Playwright
Chicano Playwright/Writer/ Performer, is known for his work in poetry, theatre, short stories, performance, and journalism.  He is also a producer/director who spent ten years at the Mark Taper Forum as Associate Producer, Director of New Play Development, and co-director of the Latino Theatre Initiative. Plays and performances include: Electricidad (Teatro Vision-San Jose, Mark Taper Forum-Los Angeles, Goodman Theatre-Chicago, Borderlands Theater-Tucson), No Holds Barrio (Goodman Theatre-Chicago), Body of Faith (Cornerstone Theater Company-Los Angeles), Straight As A Line (Primary Stages-NY, Edinburgh Festival- Scotland, Goodman Theatre-Chicago, The National Theatre of Romania [2 year run]) Bitter Homes and Gardens (Latino Chicago, Playwrights Arena-Los Angeles),Black Butterfly (Smithsonian Museum, The Kennedy Center-Washington D.C., Mark Taper Forum- Los Angeles, Borderlands Theater-Tucson), and Breakfast, Lunch & Dinner (Taper Too- Los Angeles, Teatro Vista-Chicago and Hartford Stage-Connecticut). Alfaro is the recipient of a John D. and Catherine T. MacArthur Foundation fellowship, popularly known as a "genius grant," a Rockefeller Fellow and University of California Regents Chair Fellow, and two awards from the Kennedy Center's Fund for New American Plays (one was for Electricidad, commissioned by Borderlands Theater). He is also the recipient of awards from the National Endowment of the Arts, Theatre Communications Group and PEN USA, among others.
Eva Zorrilla Tessler
director
Please see Eva Zorilla Tessler's bio on the Borderlands Staff page.
Felipe Hernandez-Bennett
Creon
has appeared with Borderlands as Shipkov in Agnes Under the Big Top, and most recently at The Rogue Theatre as Antigonus, The Winter's Tale. He made his professional New York stage debut as Lopachin in The Cherry Orchard, Cabot in Desire Under the Elms, Bird in Peter Brook's Royal Shakespeare production of The Birds. Phil founded the San Francisco Theatre Academy in 1976, and is a recipient of the Hollywood DramaLogue Award.  Philip is the Artistic Director of The TheatreLab, Tucson, a professional training program in the Stanislavsky System of Acting. www.TheatreLabConservatory.com
Robert Encila
Jason
is no stranger to the Borderlands stage (Alberto in Between Pancho Villa and a Naked Woman; Jake in Mixed Messages; Valentein A Visitor's Guide to Arivaca; Genovevo in Conjunto).   A certified fine arts teacher, Choral Director of St. Francis in the Foothills and Artistic Director of Studio Connections (a non-profit organization he co-founded in 2002 with his wife, Virginia), he produces musicals and provides private instruction in acting, guitar, piano, and voice. Encila is a director of over eighty productions in twenty-two years.  Most recently with Passionately Piazzolla, a collaborative project of Ballet Tucson and Chamber Music Plus.  Encila is also a member of Actors' Equity Association.
Guillermo Francisco Jones
Aegeus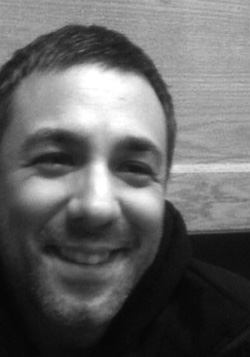 was an artist, actor, musician, writer and jr. rocket scientist prior to starting a family and settling back into Tucson – his adopted home town.  A proud father of 3 children, when not changing diapers and cleaning up vomit, he currently spends most of his available time working toward a degree in computer science…  And fighting zombies.  Borderlands productions include: Bashir, Lidless; and Lauis, Oedipus el Rey.
Angelica Rodenbec
Medea
is a native of Mexico City. Some of Angelica's Acting credits in the USA include: A visitors guide to Arivaca, A Tucson Pastorela, School of the Americas, No Roosters in the Desert, and Noche de los Muertos.  In Mexico, she was Doña Ana, Los Empenos de una Casa; Jacinta, La Verdad Sospechosa; and Clara, A Ninguna de las Tres. She has also participated in many independent film productions.  Angelica's Acting and Theatre Arts education include:  University of Arizona, University of Southern Maine, and Pima Community College.  Angelica would like to dedicate this show to her child: Jacqueline Rodenbeck.
Esther Almazanhas
La Vieja
has a B.A. in Theatre Arts and an M.A. in Scriptwriting. She has worked with The Rogue Theatre, The National Theatre of Great Britain, Discovery! Theatre for Children, a.k.a. Theatre, Old Pueblo Playwrights, Tucson Art Theatre, Homoneurotic Theatre, and The Greer Garson Theatre. Her experience in film/video includes work with Dirty Grill Productions, Pan Left Productions and Angela Films. She was a performer for the Vaudeville troupe, Cabaret Boheme, a storyteller for Odyssey Storytelling, recently directed "The Nerd" for CoRC Program at Davis Monthan, and "The Body in the Bath" for Beowulf Alley Theatre. Esther has been an admirer of Borderlands and is thrilled to be in "Bruja".
Maria Rebeca Cartes
Musician
a native of Chile, has worked extensively with Borderlands, as actor, music director and performer since the early 1980's. She is the recipient of  the Artists Grants Award by DiverseWorks and Mexic-Arte, Houston, TX, in the dance-music ensemble Sol-A, Te regalo una rosa, choreographed by Evelyn Velez, performed in Tucson, Michigan and New York.  Cartes has received an Award by the Kennedy Center for the Performing Arts in the American College Theatre Festival, for "Ensemble Performance" in the Pima College/Borderlands production Beyond Borders, 1989, and a Meritorious Achievement Award by the American College Theatre Festival, for "Musical Direction" in the theatre play Burning Patience, by Antonio Skarmeta, 1986.
Franklin J. Calsbeek, Jr.
Technical Director
made his Borderland debut with lighting design for Bee Luther Hatchee, and has continued being part of Borderlands by designing and Technical Directing such shows as Electricidad, A Tucson Pastorela (several), Impeach Justice Douglas, AZ: No Roosters In the Desert and Agnes Under the Big Top, just to name a few.  He has worked on a variety of Broadway shows such as: Show Boat, South Pacific, and Lion King. He has been a part of the staff of the Ordway Musical Theatre and Chanhassen Dinner Theatres in Minneapolis, Minnesota and The Pantages Centre of Performing Arts in Tacoma, Washington.  Frank is presently CEO of Old Pueblo Theatrical Solutions, Inc.
Russell Stagg Lighting Design
What do you call a guy with no arms or legs laying in dead leaves…?  Retirement, is great!  I love this country. Sometimes we Americans do things for our country that aren't very nice for other people. This play is about that. Helping the Director make the message of the playwright clear by assisting the Lighting Designer is, I think, a worthy cause. I am proud to be a part of this production. Russell recently did lighting for Swan Lake and will soon do Cinderella, for Ballet Tucson – Some retirement.
Andres Volovsek Scenic Design/Construction
was born in Buenos Aires, Argentina, and studied Architecture at Universidad Nacional Autónoma de México (UNAM).  He has combined his work in architecture with graphic design and photography. This is his fourth set design for Borderlands Theater. Prior work includes set design and construction for Lidless, 26 Miles and White Tie Ball.
Catherine María Rodríguez Dramaturg
is a professional freelance dramaturg with specific interests and skill in new play development and Latina/o theater.A New Orleans native whose family hails from Nicaragua, Catherine returns toTucson as dramaturg for Bruja after having worked on the National New Play Network rolling world premiere of Guapa by CaridadSvich, which debuted at Borderlands in October 2012. Professional credits include work with Steppenwolf, Sundance Institute, the NOLA Project, and Northwestern University. She is the recipient of LMDA and the Kennedy Center's 2013 Regional Student Dramaturgy Award. Catherine graduated from Carnegie Mellon University where she earned degrees in Dramaturgy and Hispanic Studies.
Camila Tessler
Stage Manager
has been working in theatre since she was ten years old and played Arminda in the first production of The Tucson Pastorela. Since then she has performed with Borderlands in several shows, including: Fuente Ovejuna; Rags; The Sins of Sor Juana; and Black Butterfly, Jaguar Girl, Pinata Woman, and other Superhero Girls Like Me. She has stage managed for productions such as Borderlands' Lidless.   She has also done costume design for shows like Living Out and Deseo/Desire, and worked with Arizona Theatre Company on Hair, Pajama Game and Jekyll and Hyde.
Kathy Hurst
Costume Design
began her costuming career as wardrobe mistress for the New Jersey Classic Ballet Company. She has been costuming for Tucson High Magnet School for 15 years including such shows as The Crucible and Lend Me A Tenor. She designed Doubt for Independent Productions, Man of La Mancha for Studio Connections Harvester for One 17 Productions. Past Borderlands projects include: Lidless, She Was My Brother, Between Poncho Villa And A Naked Woman, Oedipus del Rey, Arizona: No Roosters in the Desert, White Tie Ball and Lidless. Kathy is pleased to be working with this season's delightful array of actors.
Jim Klingenfus
Sound Design
designer/audio engineer, has worked on over 80 plays.  Some of Jims' credits with Borderlands include: (5 seasons) Coyote y Culebra Youth Production, Arizona: No Roosters in the Desert; Oedipus El Rey; Lidless; and a 2005 Zonie Award nominee for sound design of Men On The Verge 2.   Jim designed sound and composed for 23 seasons of "Tucson Shakespeare Under The Stars," and has been the music director of Borderlands' A Tucson Pastorela since 2007 and played Lucifer in the 2010 and 2011 productions. In 2011 Jim played Judge Turpin in the Arizona Onstage production of Sweeney Todd, and was in the ensemble cast of Head at Beowulf Theater.