LUNADA: A Virtual New Moon Literary Lounge
Presented by: Galería de la Raza and Borderlands Theater
SPOKEN WORD|MÚSICA|OPEN MIC
For two decades Lunadas have fortified Bay Area communities on the full moon. During this time of the Covid19 crisis, Lunadas go virtual and move to the new moon, a time for intention setting and realignment. Recognizing the need to pull together Galería de la Raza joins forces with Borderlands Theater and Lunada founder Marc David Pinate, in a historic collaboration presenting an evening of truth-telling and testimonials on the dark side of the moon. Featuring the best Latinx poets in the country the virtual Lunada promises an evening of medicine for the heart and spirit.
---
Featured Artists for This Month's Lunada
Wednesday August 19th, 2020 @ 6pm
Livestreams on Borderlands Theater's
& Galería de La Raza's
Click on one of the livestream platform links above on the day and time of the performance to watch it live!
Mayda began her artistic career at the Nuyorican Poets Café, where she was the 2001 Grand Slam Champion, and went on to become the National Poetry Slam Champion in the same year. She was the youngest poet, and the first Latinx person to do so. She has appeared in Urban Latino, Latina Magazine, Mass Appeal, The Source, The New York Times, and was named by Smithsonian Magazine as one of America's Young Innovators in the Arts and Sciences. Oprah's "O" Magazine selected her as one of 20 women for the first ever "O Power List", a group of visionary women making a mark in business, politics, and the arts. She has performed at venues across the world, including the White House in May of 2009, by invitation of President Obama and the First Lady.
Tony (Toño) is the son of Chicano activists Jose Antonio Burciaga and Cecilia Burciaga. He has been playing music and singing for 30 years with several bands and as a solo performer. He attended CSUMB and received his bachelor's degree in social work. He has been teaching in special education last 10 years. He currently lives in Carmel with his wife and two young boys, Toñito and Pancho.
---
Upcoming Lunada Lineup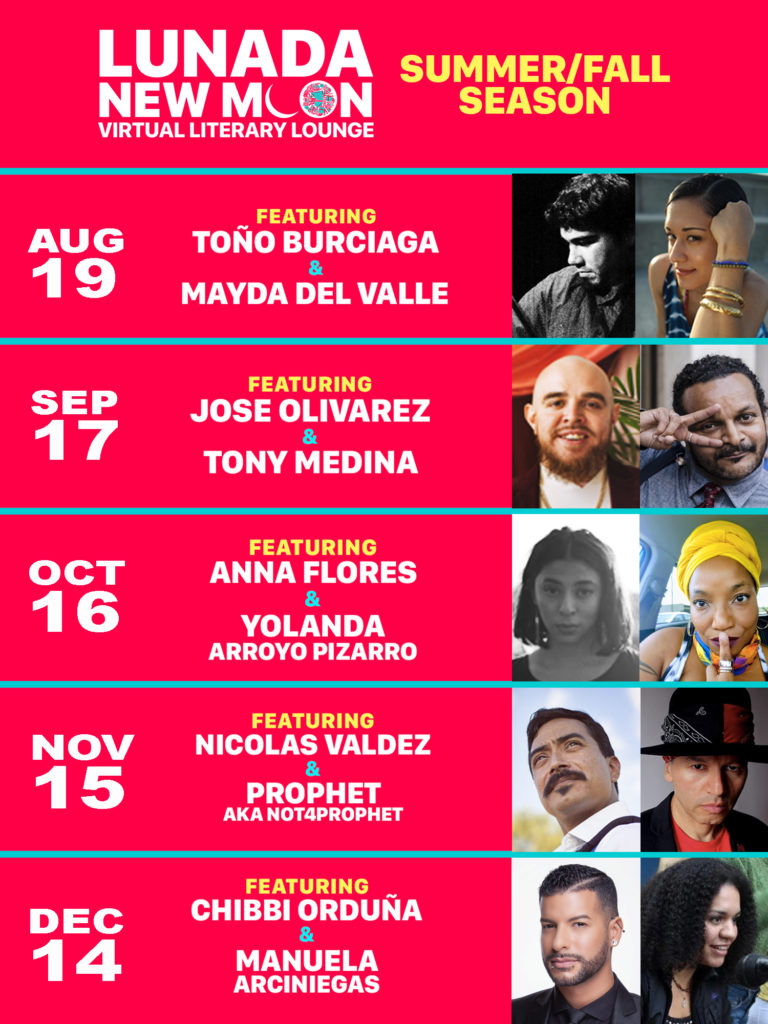 ---
THE LUNADA CURATORIAL TEAM, THE BEATS & THE HOST
---
Previous Lunada Features
***Click artists names below to see their live performance in Lunada
June 21, 2020
Marga Gomez has read at Lunada twice in San Francisco and is honored to be part of this profound experience once more, now more than ever. Marga is the writer and performer of thirteen solo plays, which have been produced everywhere including Borderlands in Tucson. These days she's bringing them all online. She will premiere her latest show "Spanking Machine" as a commissioned work by Dixon Place NYC July 16th thru July 25th. Her acting credits include theatre roles: Campo Santos San Francisco production of "Translating Selena" (January 2020) Off-Broadway Ars Nova production of "Dr. Rides American Beach House" (November 2019) television: "Sense8" (Netflix) and film: "Sphere" (Warner Brothers.)
Jesús I. Valles is a queer Mexican immigrant, educator, storyteller, and performer based in Austin, Texas, originally from Cd. Juarez, Mexico. Jesús is a recipient of the 2018 Undocupoets Fellowship, a fellow of The Poetry Foundation and Crescendo Literary's 2018 Poetry Incubator, runner-up in the 2017 Button Poetry Chapbook Contest, and a finalist of the 2016 Write Bloody Poetry Contest. Their work has been published in The Shade Journal, The Texas Review, and The New Republic (forthcoming). Jesús currently teaches social and emotional learning to high school students, focusing on those recently arrived in the U.S.
July 20, 2020
Ariana Brown is a queer Black Mexican American poet from the Southside of San Antonio, TX. She is the author of 'Sana Sana,' a poetry chapbook with @gameoverbooks, and is a 2014 national collegiate poetry slam champion. Ariana's work investigates queer Black personhood in Mexican American spaces, spirituality, and healing. Find her poems + rants on IG/Twitter @arianathepoet.
Carmen Tafolla, the first City Poet Laureate of San Antonio and the 2015 State Poet Laureate of Texas, has authored more than thirty books and received numerous awards including the Americas Award, five International Latino Book Awards, and the Art of Peace Award, for work which contributes to peace, justice, and human understanding. Professor Emeritus at the University of Texas-San Antonio, and former President of the Texas Institute of Letters, Tafolla has been called by Rigoberto Gonzalez "the Zora Neale Hurston of the Chicano community" and honored by the National Association of Chicana/o Studies for work which "gives voice to the peoples and cultures of this land."