Borderlands Theater strives to build equitable, joyful, and meaningful collaborations with the local community through innovative theatre and responsive cultural programs ingrained in the heritage, narratives, and lived experiences of peoples rooted across the Sonoran Desert.
Anita the Musical – First FREE Public Reading!
Saturday October 15, 4pm
Harold Dixon Studio Theatre
UA School of Theatre, Film, & Television
After a year of closed development workshops, Borderlands Theater invites the general public to the first public reading of playwright Milta Ortiz's most ambitious work to date written in collaboration with composer and co-lyricist Quetzal Guerrero.

Directed by Kinan Valdez, featuring UA Theatre and Pima theatre students, and Borderlands Theater actors, the reading is co-presented by the UA School of Theatre, Film, & Television. Anita was commissioned by Borderlands Theater and initial development was supported by a National Association for Latina/o/x Arts and Culture Border Narrative Change Grant, a Mellon Projecting All Voices Fellowship awarded to Milta Ortiz from Arizona State University and Network for Ensemble Theaters grants. This current workshop is supported by the NEA Musical Theatre division.
About the Musical
Anita, like the other girls at Southwest Skies youth shelter, has been separated from her parents at the border. Trying to find them, Anita stumbles into Luz Dorada, a charismatic PR executive at the shelter's PR blitz. Anita's exuberance wins Luz over, and she eventually signs on to help her find her parents.
Anita, the musical, centers Latina characters and pays homage to the intermingling of the Southwest borderlands with cumbia, bolero, jazz, and trap pop fusions. Anita is the timeless tale of resilience and hope against all odds highlighting the power in community.
---
Ballet & Bagels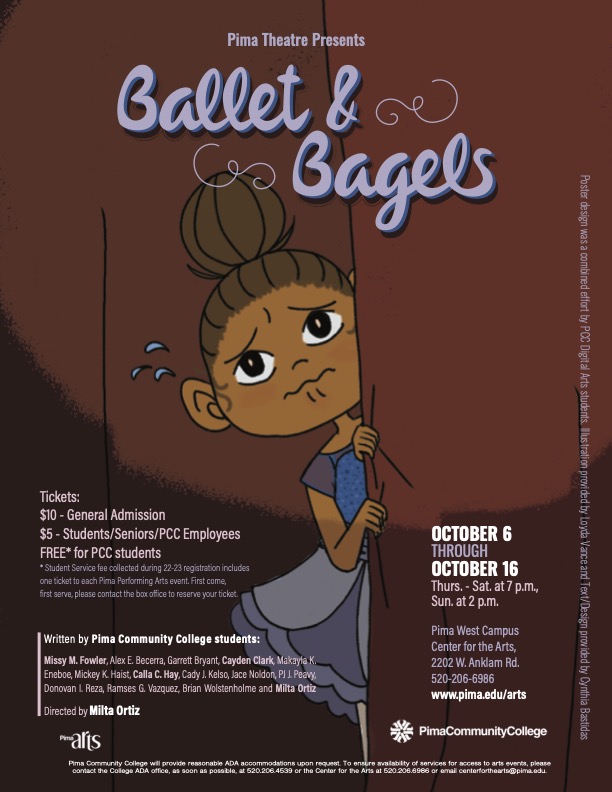 October 6-16
Thurs-Sat at 7 pm
Sun at 2 pm
Pima Community College West
Blackbox Theatre
$10, $5 Students/Seniors/Military/Groups
We are proud to support Pima Community College's upcoming family-friendly production, Ballet and Bagels. co-written and directed by our very own, Milta Ortiz! An original play with a diverse cast that centers a young Latina, who struggles to make friends and wants to dance at the ballet studio next to Nana's Bagel Shop. Frequent customers, The Bagel Bros and The Bagel Boys share a love of bagels much like the girls' love of ballet but will they all become friends? Original work written by Pima students: lead writer Missy Fowler and Milta Ortiz. Directed by Milta Ortiz. Performed by Pima students.
---
Mark Your Calendars: West Side Stories!
April 20 – 30, 2023
Bonita Park
20 N Bonita Ave, Tucson
The fourth installment of Borderlands Theater's popular Barrio Stories Project is on its way!! Fourteen cuentos celebrate the history and heritage of the West Side with stories of mujeres poderosas, pachucos and curanderas, neighborhood rivalries, the infamous 1C program, sacred mandas, and barrio traditions. Curated heritage talks and interactive activities complement the performances. A unique immersive theatre experience not to be missed!