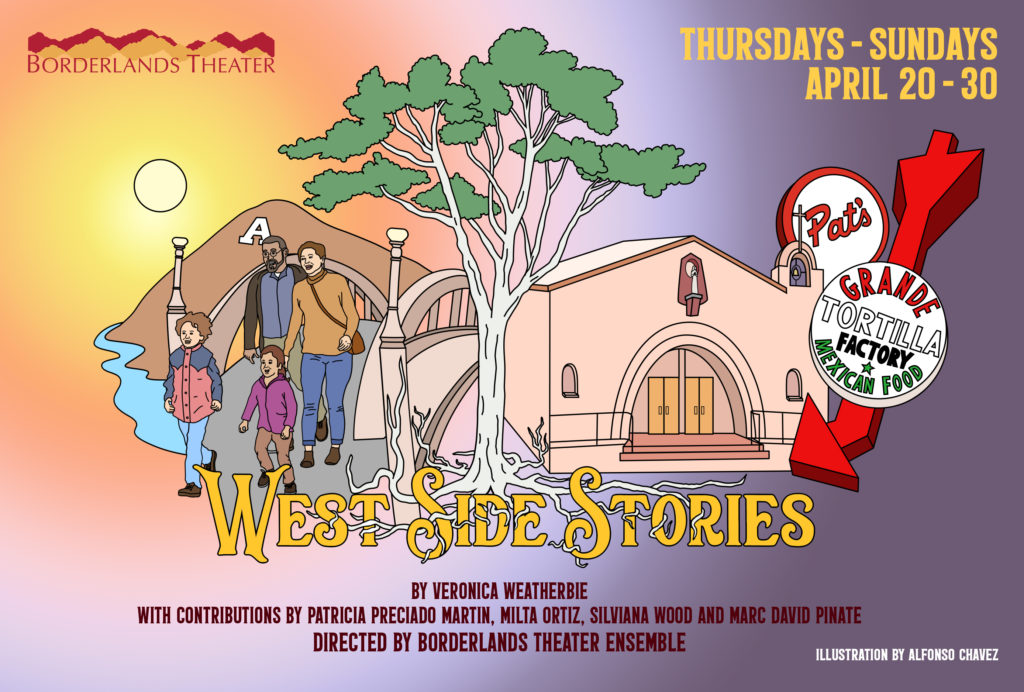 From Our YouTube Channel
Watch west-sider Clarrissa Rodriguez talk about representing her barrio as an actress in West Side Stories.
Meet the Writers
Veronica Weatherbie- Playwright
Patricia Preciado Martin- Writer
Patricia Preciado Martin, a native Arizonan and lifelong Tucsonense, is the author of three collections of oral history and three collections of widely anthologized short stories. Martin is the recipient of the Arizona Humanities Council Distinguished Public Scholar Award of Excellence. She met Jim, her husband, while serving in the Peace Corps in Central America. They live in Tucson.
Silviana Wood- Writer
Silviana Wood is a celebrated playwright and Chicana activist based in Tucson. She was a member of Teatro Libertad, a collective that emerged in the 1970s as part of the Chicano civil rights movement. Her plays have been performed both regionally and nationally.
Milta Ortiz- Writer, Editor
Milta Ortiz, an award-winning playwright was born in El Salvador and raised in the Bay Area, she now calls Tucson home. She's developing Anita, a musical in collaboration with composer Quetzal Guerrero at Borderlands Theater. Current developmental workshop partners include University of Arizona and Childsplay. An excerpt of Anita was showcased at 4xLatine by the Latine Musical Theatre Lab. Milta was a 2020-21 Projecting All Voices Mellon fellow at Arizona State University, where she incubated Anita and solo play What Are You? In Fall 2022, she directed Ballet & Bagels, a TYA play she wrote with her students at Pima Community College in Spring 2022. Her play, Pilar and Paloma was part of Launchpad's 2021 BIPOC Reading Series Festival. Judge Torres, commissioned and produced by Milagro Theatre Group, toured nationally to universities (2019-2020). Milta is Associate Artistic Director at Borderlands Theater, where a few of her plays, including Sanctuary (2018) and Más (2015) have world premiered. Borderlands' production of Más toured Arizona universities. Más was produced at Su Teatro, Ubuntu Theatre Project/Laney College, and San Diego State University. She earned an MFA from Northwestern University, and a BA from San Francisco State University. She is proud to serve on the National New Play Network board of directors and as commissioner for the Tucson Convention Center.
Marc David Pinate- Writer
Meet the Directors
Marc David Pinate- Director (Borderlands Theater Ensemble)
Marc David Pinate is an indigenous Xicano making theatre in the Sonoran Desert region, his ancestral homelands. He has worked with nationally recognized companies such as Magic Theatre, Campo Santo, El Teatro Campesino, ShadowLight Productions, Steppenwolf, Cleveland Public, Milagro Theatre and the Kennedy Center for the Arts. The producing artistic director of Borderlands Theater, his passion for creative placemaking and place-keeping has led to developing and directing ethnographic projects focused on Southern Arizona narratives including: Más, (with playwright Milta Ortiz) a docudrama about the struggle to save the TUSD Mexican American Studies program; Sanctuary, (also with playwright, Milta Ortiz) the story of the Tucson origins of the Sanctuary Movement; Barrio Stories, large scale, site-specific heritage festivals centering the history and heritage of Tucson's Mexican-American barrios; and Sonoran Shadows, a shadow theatre adaptation of the stories of Patricia Preciado Martin. His work has received support from the National Endowment for the Arts, Doris Duke Foundation, National New Play Network, The Mellon Foundation, and Theatre Communications Group. His play writing credits include numerous street theatre actos, Fear of a Brown Planet with Paul Flores and Amalia Ortiz, 2012: Time of No Time (commissioned by La Peña Cultural Center, Berkeley, CA) and most recently, Antigone at the Border, a post-colonial adaptation of the Greek classic for which he received the New England Foundation for the Arts National Touring Project award to develop. He's been a founding member of performance collectives including Chicano Messengers of Spoken Word, Grito Serpentino, and the Hybrid Performance Experiment (the HyPE). Marc holds an MFA in Directing from the Theatre School at DePaul University and teaches theater at Pima Community College and creative placemaking at the University of Arizona.
Jonathan Heras- Director (Borderlands Theater Ensemble)
See bio and headshot under actor credit
Meet the Cast
Diana Acosta
Diana Acosta is a Mexican entrepreneur who, since a young age, has been drawn to the spotlight in some way or another. Whether it be in the form of dance, modeling or hosting, Diana cannot miss an opportunity to be part of great projects. She is excited to be able to perform with Borderlands Theater and bring to life a part of Tucson's history.
Ollin Acosta
Ollin is a senior at Tucson High School and is excited to take part in this production. He has been acting since middle school and was in the recent production of Tucson High called Arsenic and Old Tucson by Julian Martinez in which he played Pedro Alvarez. Outside of stage acting, Ollin enjoys creating films and spending time with his dog Sol. His dream is to act in films and make it to Hollywood. He hopes you have a wonderful evening and enjoy the show.
Marcus Gallegos
Born and raised in Tucson, AZ, Marcus has always had a passion for the performing arts. This is his debut performance at Borderlands Theater. Marcus has previously worked with Roadrunner Theatre Company as well as Speak the Speech, in various plays such as American Buffalo and Buried Child. Marcus Gallegos is also an aspiring stand up comedian, having now performed for over 10 years. He is excited to get back into acting and thankful to be able to do a community driven production that has strong ties to his heritage and community.
Jonathan Heras
Jonathan is an actor and singer from Yuma, Arizona and now a Tucson performing artist and member of the Borderlands Theater Ensemble. He has worked with various local theaters including Live Theatre Workshop, Stories That Soar, Gaslight Theater, and many more. He develops and writes content with a group of artists called Digital Desmadre to create content and raise awareness through social media platforms. He has worked with youth as a theater teaching artist for over 10 years and is currently the musical director at Sal Pointe Catholic High School.
Taylor Hernandez
Taylor Hernandez, actress, graduated from Pima Community College with her AFA in Performing Arts and AA in Liberal Arts. Taylor has worked with multiple theatre companies and in film, her most recent being Scripted, being a virtual play with Winding Road. She has also performed in Wyoming with The WAIT Company in The Complete Works of William Shakespeare (Abridged). She is excited to be on stage again and is very thankful to be part of such an amazing cast and crew.
Cristian Holman
Cristian Holman is an actor and performing arts student at Pima Community College where he is pursuing an AFA degree in visual and performing arts. Cristian has been acting since he was 11 years old being in numerous projects such as short films and Theatrical Productions, a few being: Guys and Dolls, The Music Man or more recently, Chill a staged reading produced by Winding Roads Theater. Having aspirations to become a professional actor in film and television, Cristian is always open to learn from his fellow actors and looks for opportunities to work with those that have experience. That said, Cristian thanks Borderlands Theater for the honor to act for them and wishes to dedicate this performance to those whose stories made this show possible, The West Siders of Tucson.
Luoyi Hsieh
Born and raised in South Bay Los Angeles, Luoyi has been a resident of Tucson, AZ for 23 years. Some seasoned locals might recognize her as the tenacious lady who used to walk through downtown with a large wicker basket serving eggrolls to late night patrons. These days she keeps herself busy with a myriad of creative pursuits, including but not limited to: theater, writing, bartending, and cooking giant meals for her loved ones. This is her first show in Tucson.
Clarrissa Rodriguez
Clarrissa Rodriguez is a Tucson based actor and received her BFA from Marymount Manhattan College in 2021. She is thrilled to be a part of this production of Barrio Stories: West Side! As a west-sider herself, she is honored to be able to represent Barrio Hollywood! Other credits include Everybody as Death, Electra as Clytemnestra, and Palo Verde as Selena. She would like to dedicate this performance to her Knight in shining amor, and her family (TLF), especially her grandparents.
Meet the Crew and Production Team
Katharine Len Yee Mitchell– Production Manager
As a biracial explorer of this world, with roots in the US and Malaysia, Katharine centers her work on individual and community stories and the connection to place and others, accessibility, community development as freedom, and healing. Katharine has lived in the Sonoran Desert in Tucson, Arizona since 2011. She completed her Masters in Urban Planning at the University of Arizona and Bachelor's degree in Environmental Anthropology at Bard College in New York. With two decades of experience working with for profit and nonprofit organizations in Southeast Asia, California, New York, District of Columbia, Virginia and Arizona, Katharine leads with generosity, abundance and a curious mind. Her strengths are in community organizing, outreach and stakeholder engagement, research, policy, project management, grant writing, program evaluation, and healing as a mentor. She is a big picture thinker who easily adapts to new environments. She is continuously inspired by solutions that help the most vulnerable in our communities and in final products that are beautiful in every sense contributing to local culture. Katharine currently works in community as a consultant/contractor and volunteers her time in mutual aid growing in her knowledge and network in Tucson and beyond.
Isobela "Izzy" Georgiades– Scenic Designer
writer | painter | all-around lover of the arts
Desert dwelling theater design graduate, proud mom of 1 amazing human, 2 giant dogs, 2 anxious cats, and an aloof mouse.
Greg Houston– Lighting Designer
Gregory James Houston is a freelance lighting designer, who has had the pleasure of working with Borderlands on many different shows. Gregory graduated from the University of Arizona, with a bachelor's of fine art in technical theater production with an emphasis in lighting design. He has made the move from Tucson, Arizona to Los Angeles, California. While being in Los Angeles he has become the main Lighting Designer at Avalon Hollywood. He still tours and works as the lighting designer for the Tucson based band XIXA. Gregory is excited to help bring to life Borderlands theaters Westside stories project.
Borderlands Cast and Directors– Costume Design
Milta Ortiz and Jonathan Heras– Choreographers
Marc David Pinate– Sound Designer/Shadow Theatre Designer
Lilianna Espinoza– Stage Manager
Juan Pablo Félix– Assistant Stage Manager
Juan Pablo Félix is a film and theater director, graduated from the Universidad Nacional de Colombia in Bogota, with an MFA in Theater Directing from Columbia University in New York thanks to a Fulbright scholarship. He has led several audiovisual projects with communities in Colombia, Australia and Germany. He has also worked as a casting director and acting coach for various films with premieres in festivals such as Cannes, San Sebastian, Toronto and Venice. He has developed an innovative method for directing actors on screen in the United States, Dominican Republic, Mexico and Cuba. In theater, he has directed both classical and contemporary productions. He has also been Associate Professor at the Pontificia Universidad Javeriana in Bogota and Guest Professor at the International School of Film and Television in San Antonio de los Baños, Cuba.
Luisa Fernanda Stahlkopff– Assistant Stage Manager/Wardrobe Assistant
Glen Bucy– Set Builder
Leigh Mileur– Set Builder
Todd Poelstra-Scenic Advisor
Adam Cooper-Terán– Digital Media Design
Adam Cooper-Terán (ACT) is a native of Tucson, Arizona, born from a mixed heritage of Mexican, Yaqui, and Jewish roots. Known for their collaborations among various performance troupes, theater companies, musicians, dancers, educators, and activists, Adam's work has featured across the globe as large-scale media projections, musical interventions, and installations of digital storytelling.
As a performer, Adam mixes media live into ritualized improvisations, leading to highly personal and political spectacles rooted in ceremony and activism. Adam currently works as an instructor with Photography Without Borders in Philadelphia, while continuing to serve as a core ensemble member of Borderlands. For more information and overview of their work, visit ANTRAL.NET.
Anika Brennan– Intern/ Prop master
Anika is a junior at Macalester College in St. Paul, Minnesota, studying sociology. She is interning with Borderlands Theater for the semester through the Border Studies Program. She is passionate about placed based storytelling as a mechanism of resistance and is excited to be a part of her first Borderlands performance doing props!
Julian Argote– Heritage Circle Mural Artist
Westside Stories is sponsored by the Salvador Foundation. With additional support from Arizona Humanities and Southwest Folklife Alliance Plainview Fellowship.

Collaborating partners: City of Tucson Parks and Recreation, Pima County Community Land Trust, City of Tucson Ward 1, Westside Resident Steering Committee, Arizona State Museum