Latin Standards
Written/performed by Marga Gomez
Directed by David Schweizer
February 14- 18, 2018
Steinfeld Warehouse
101 West 6th Street, Tucson, Az 85701
Wednesday Feb 14 @ 7:30pm $30 Valentine's Opening Night Postshow Party Music, catered Cuban food, drinks, prizes! Meet Marga Gomez!
Thursday Feb 15 @ 7:30pm $27/$22/$16 (General/ Senior/ Student)
Friday Feb 16 @ 7:30pm $27/$22/$16
Saturday Feb 17 @ 7:30pm $27/$22/$16
Sunday Feb 18 @ 2:00pm $27/$22/$16
About The Show:
"Vibrant….winning heart and humor. Critic's pick!" — The New York Times
In her 12th solo play GLAAD Award winner, Marga Gomez performs the loving, funny and true story of perseverance and creative addiction passed down from immigrant father to lesbian daughter. Mixing nostalgia, social commentary and comic edge, Gomez portrays herself as a driven adult child of a blustery Cuban showman. As an impractical tribute to his memory, she defies reason and launches a hipster comedy night at "Esta Noche," a doomed Mission district drag club, during the onset of San Francisco's gentrification crisis. As the story unfolds Gomez muses "Esta Noche might smell like bleach and urinal cake now but I'll just buy all the potpourri in town. Because my father taught me you have to spend money to make money!"
Between vivid portrayals of characters from 1960's Manhattan to present day San Francisco, Gomez ponders the ballads (or Latin Standards) penned by her late father Willy Chevalier: a comedian/producer/entrepreneur and composer of dance tunes steeped in jealousy and obsession. The world premiere of "Latin Standards" took place Off-Broadway in January 2017 at The Public Theater's "Under The Radar Festival." "Latin Standards" has since been presented at Chicago's Urban Theater, at The Los Angeles Theater Center's "Encuentro De Las Americas," an international festival, at Segerstrom Arts Center in Costa Mesa, CA, and at American Repertory Theater's "Glowberon Series" in Cambridge, MA. "Latin Standards" made its official San Francisco premiere in January of 2018. The performance runs 80 minutes with no intermission.
New York Times Review: www.nytimes.com/2017/01/12/theater/latin-standards-review-marga-gomez.html?_r=0
Orange County Register Review: www.ocregister.com/articles/gomez-741782-dad-latin.html
About The Artists:
Writer/ performer Marga Gomez is a GLAAD Award and LA Ovation Award-winning writer/performer of 12 solo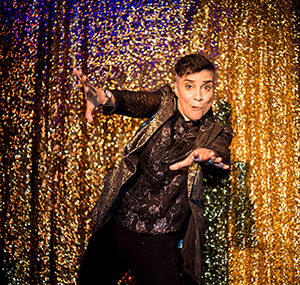 plays which have been presented at The Public Theater, La Mama ETC, Dixon Place, The Whitney Museum, nationally and internationally including London's ICA, The Edinburgh Fringe, and Montreal's Juste Pour Rire Festival. Gomez is also a stand-up comedian. Her television appearances include LOGO's "One Night Stand," Comedy Central's "Out There," and HBO's "Comic Relief." She was recently named "2017 Best Of The Bay Comedian" by the SF Bay Guardian and 48 hills. Her screen roles include "Sphere" (Warner Brothers) Tracy Takes On… (HBO) and most recently she was featured on the Netflix series Sense8. Gomez was an original Member of Culture Clash. In 2016 NBC named her one of eleven "Out Latinos you should know." The SF Weekly named Marga one of "2016's Artists To Watch." Her website is margagomez.com
Director David Schweizer has been developing and directing new live performance work nationally and internationally for forty years, from his debut at Lincoln Center with a radical revival of Shakespeare's TROILUS AND CRESSIDA to his return there with Richard Rodney Bennett's THE MINES OF SULFUR for New York City Opera. He has proudly directed many of Marga Gomez' solo works including "Los Big Names," "Jaywalker," "Lovebirds," and "Long Island Iced Latina."