Barrio Stories in Barrio Anita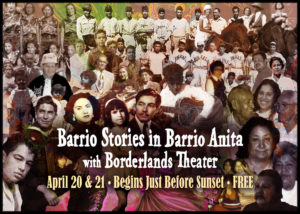 Conceived and Directed by Marc David Pinate
Collaborating Artists: Adam Cooper Teran, Heather Gray, Sarah Gonzales, Wesley Creigh
After a year of research and community collaboration, artists present an extravaganza for the senses for two nights in Barrio Anita! Staged outdoors in historic Barrio Anita, this community based, immersive experience tells the story of Barrio Anita through large scale video projections, live music, shadow theatre, performed poetry, historical reenactment, heritage foods, and audio tours.
April 20 & 21 @6:45pm
Free to the public. Donations gladly accepted.
Outdoors in Barrio Anita between the Oury Center and Davis Elementary school and garden.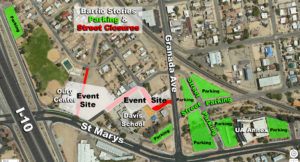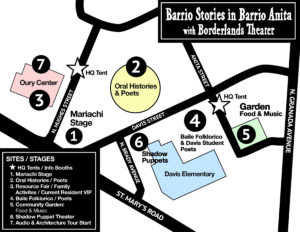 Tips for getting the most out of Barrio Stories
Bring a flash light!
Stop by the one of the two headquarter tents to pick up map and program. Volunteers happy to answer questions.
Bring head phones for the audio tour.
Featured Attractions:
Oral History Projections – interviews with long time residents and archival photo collages projected on large scale screens and buildings throughout neighborhood. Culminates with a movement performance by Pima Community College students choreographed by Milta Ortiz.
Performed Poetry – Spoken Futures youth poets roam throughout the area performing original poems inspired by Barrio Anita history and heritage.
Featuring: Gregorio Contreras, Leo Herrera, Enrique Garcia, Zoe Keeter, Ara Montano, Virginia Sabimana.
Mariachi Stage –  An homage to the awe inspiring after-school Mariachi programs throughout Tucson that began at Davis Bilingual Elementary in 1983 with Dr. Alfredo Valenzuela.
Las Aguilitas  de Davis 
Mariachi Corazon
Mariachi Estrellas de Tucson
Roskruge Mariachi
Mariachi Milagro
Shadow Theater – University of Arizona Mexican American Studies students in Dr. Michelle Tellez' class, bring to life stories of Barrio Anita through the magic of shadow theater.
Shadow plays written by:
Brenna Mirae   "No Spanish Allowed"
Twyla Patch "The Wild Ride of Baby Alfredo"
Patricia Preciado Martin's "La Toreadora"' adapted by Milta Ortiz
1950's Style Backyard Barrio Fiesta – Bario Anita resident Bobby Benton and musicians play music of the Barrio in the Davis Garden. Heritage food sampling.
Audio Walking Tour – Using your smart phone and head phones hear a GPS guided tour of Barrio Anita heroes.
SELF GUIDED GPS AUDIO TOUR  5:00 til Sunset

Using your smart phone and head phones hear a GPS guided tour of Barrio Anita and some of the neighborhoods most significant residents.

Step One: Download "Tour Buddy" onto your smart phone and put on headphones.

Step Two: At the sign in, enter your email address and the password "anita04"

Step Three: Select the Barrio Anita Tour and press GO.

Step Four: Make sure the "GPS Auto-Play" is turned ON in the Tour Buddy app.  You can check this setting by tapping the blue button with three white dots "…" at the bottom left corner of the screen. The Quick Settings menu will appear and you can switch "GPS Auto-Play" to ON.

Step Five:  With the Tour Buddy app open on your smart phone, walk to Oury Center and look for the painted mural panel featuring Ramon "Chino" Quiroz located at the entrance to the basketball courts (across from bathrooms).  As you approach the mural panel, the narration will start playing automatically.

Step Six: At the end of of the descriptive narration, the app will tell you where to go next.

Davis Bilingual student Ballet Florklorico and Poetry Performances  
Family Interactive Activities:
Audio recording stations to share audience member's own stories and reflections.
Barrio Haiku writing station.
Giant map for families to mark where they lived.
Resource Fair
Arizona Grandparent Ambassadors
Flowers and Bullets
Office of Pima County Supervisor Richard Elías
No Mas Muertes
TUSD Mexican American Student Services Department
Davis Magnet Coordinator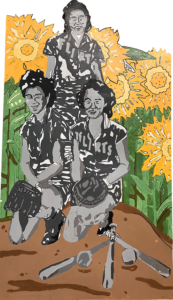 Sponsors
Southwest Folklife Alliance
Network of Ensemble Theaters (NET)
AZ Humanities
National Association of Latino Arts and Cultures (NALAC)
Arizona Commission on the Arts Creative Communities Institute
Los Descendientes del Presidio de Tucson
Partners
City of Tucson Ward 1
Davis Bilingual Magnet School
Oury Center- City of Tucson Parks and Recreation
Spoken Futures
University of Arizona Mexican American Studies
Pima Community College Theater Department
Primavera Foundation
Many Mouths One Stomach