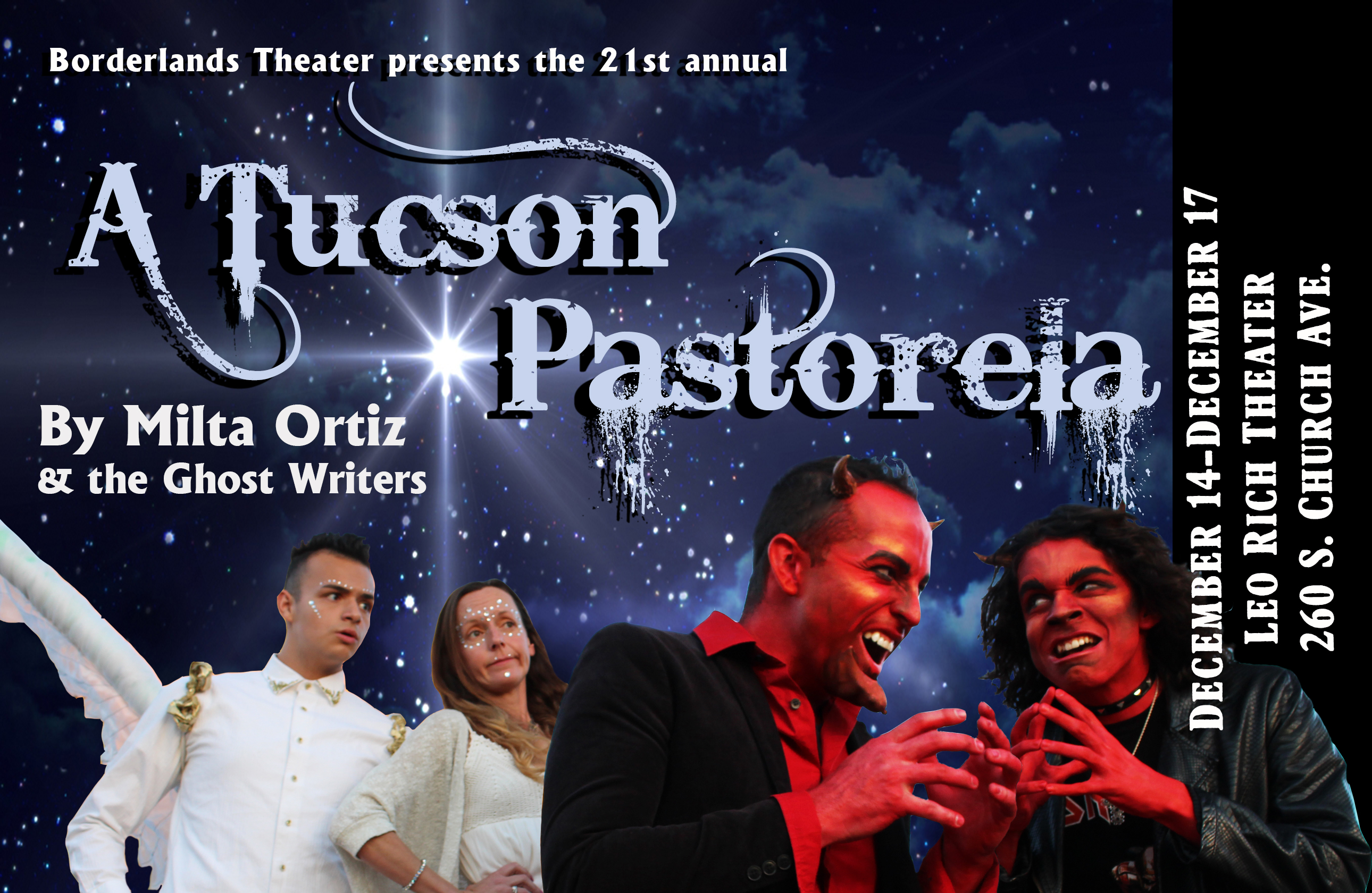 Written by Milta Ortiz and the Ghosts Writers
directed by Marc David Pinate
Leo Rich Theater (Tucson Convention Center)
Dec 14 – Dec 17, 2017 Thurs- Sat 7:30pm, Sat & Sun 2pm
A Tucson holiday tradition for 21 years! Archangels send a group of shepherds on a harrowing journey to meet El baby Jesus. But first they must make it past ornery devils. A Tucson Pastorela is generously infused with musical numbers, and farcical satire lampooning 2017's biggest political and pop cultural events.
Prices are:
$27 General
$22 Senior
$16 Student
$10 Children 16 and under
Buy tickets:
TCC Box Office Mon-Fri 10-5:30pm
Call 791-4101 Choose option 1
In Person: 260 S Church
$2 fee per ticket
Or
TicketMaster
1-800-745-3000 (fees range from $5- $7.50 per ticket)
MILTA ORTIZ
(PLAYWRIGHT)
Milta Ortiz is a playwright from the Bay Area, who now calls Tucson home. She recently finished her play Sanctuary and a few poems at Djerassi Resident Artist program. She wrote and directed Solving for X for the Working Classroom in Albuquerque. Her play, Más was produced at at Su Teatro in Denver March 2017, co-produced in the Bay Area by Laney College March, 2016 and Ubuntu Theater Project May 2016. Más premiered at Borderlands Theater in September 2015 and was nominated for an American Theatre Critics/Steinberg New Play Award and Citations, and a Tucson Mac award for best drama and touring Arizona Universities. Más was developed at Borderlands Theater through an NNPN residency, selected to the Latino Theater Commons Carnaval play festival and made the Kilroy List. Other produced plays include 20th Annual A Tucson Pastorela, Sonoran Shadows (a shadow play,) 19th Annual A Tucson Pastorela, Disengaged, 18th Annual A Tucson Pastorela, Fleeing Blue and Scatter My Red Underwear. Milta worked extensively as a teaching artist and received individual artist grants to write, develop and produce her solo work in the Bay Area. She teaches theater at Pima Community College. Milta earned an M.F.A. from Northwestern University's Writing for the Screen and Stage program and a Creative Writing B.A. from San Francisco State University. She is a proud mom to bubbly preschooler.
MARC DAVID PINATE
(DIRECTOR)
is a theatre artist, musician and educator. He has worked with various companies including El Teatro Campesino, Teatro Vision, The Magic, Campo Santo in California; Steppenwolf and American Theatre Company in Chicago; and Arizona Theatre Company locally. Some of his directing credits include: MAS, BARRIO STORIES, SONORAN SHADOWS, IN THE RED AND BROWN WATER, CELBRITY ROW, THE MINSANTHROPE, PUTO, DEATH AND THE MAIDEN, and ZOOT SUIT. Marc founded the Hybrid Performance Experiment (The HyPE) known for site specific performances on Bay Area Rapid Transit trains . Marc was a member of the spoken word troupe, Chicano Messengers of Spoken Word with whom he co-authorded the play, Fear of a Brown Planet. He fronted the band, Grito Serpentino, a spoken word and music ensemble that toured throughout the country and produced two albums. Marc was a program director at Movimiento de Arte y Cultura Latino Americana, an arts center in San Jose, California and at the historic, Galería de la Raza, in San Francisco. He's taught acting at San Jose State University's department of Television, Radio, Film and Theatre. He currently teaches at Pima Community College and runs Borderlands Theater.
PASTORELA CAST
GUEST/VISITANTE
Kate                   Bella Vivante
ANGELS/ANGElITOS
Michael              Kat Mcintosh
Gabriel               Adrian Encinas
DEVILS/LOS DIABLOS
Lucifer   Jonathan Heras
Satan      David Grijalva
Lust        Emily Pratt
SHEPHERDS/PASTORES
Bato          Eddie Diaz
Menga      Leticia Gonzalez
Soledad    Marisa Acosta
ANIMALS/ANIMALES
Popo        Ella Bracale
Crespo     Sarah Haro
KINGS/LOS REYES
Wise Man #1    Mark Allen
Wise Man #2   Bianca Regaldo
Wise Man #3   Jim Klingenfus
HOLY FAMILY/FAMILIA SAGRADA
Mary                  Xail Hernandez
Joseph               Leo Corrales
PRODUCTION CREW
Sharkey                          Stage Manager
Elizabeth Blair             Costume Designer
Jim Klingenfus             Sound Designer
Gregory Houston         Lighting Designer
Tory Middlebrooks      Properties Master
Wesley Creigh               Scenic Designer