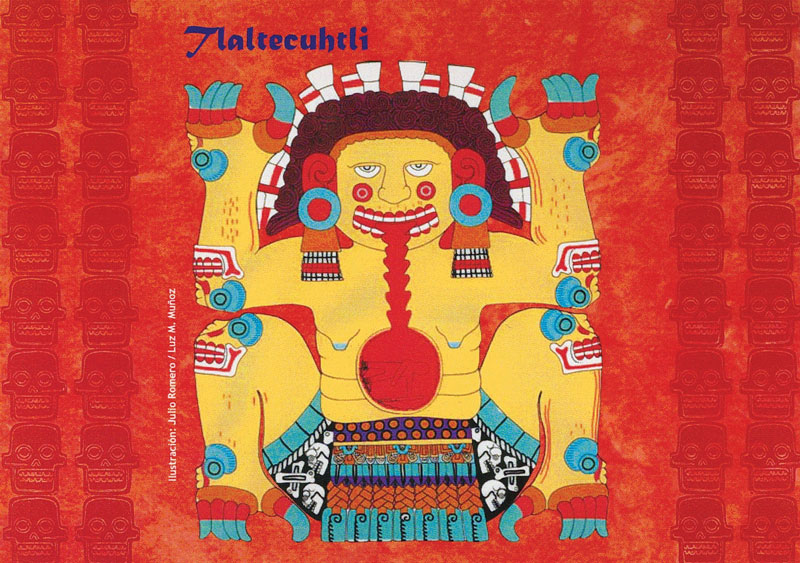 "Chicas desenfrenadas y vatos perdidos!
Unstoppable chicas and lost vatos!"
Tlaltecuhtli, the ancient Aztec Earth Goddess of birth and death, both kind and terrifying, blesses our 27th season.
In our three plays, two young women and one young man respond to the whispers of voices from the past; and with others struggle to overcome their own demons by converting these whispers into shouts and song.
Barclay Goldsmith
Producing Director
Eva Zorrilla Tessler
Associate Artistic Director

A New Play by Obie Award Winner Caridad Svich
(Winner of the 2011 American Theatre Critics Association Francesca Primus Prize for her adaptation of House of the Spirits by Isabel Allende)
A National New Play Network (NNPN) Rolling World Premiere with Borderlands Theater, Miracle Theater, and Phoenix Theater
In her small and dusty Texas town, "Guapa" dreams of playing women's soccer. With only one shot to reach the big leagues from el barrio, how can she convince the non-believers to spread their wings and fly? This story kicks its way across the stage with magical dreams, trauma, graffiti, birds in flight and indigenous voices.
OCTOBER 4-21, 2012
ZUZI'S THEATER 738 N. 5th Ave.
Supported in part by The Continued Life Fund of the NNPN and the Edgerton Foundation New American Plays award.
---
By Wendy Burk, Eric Magrane and the Pastorela Ghost Writers
A FAMILY TRADITION BACK FOR THE 17TH YEAR!!!!
ONE WEEKEND ONLY!
Shepherds, Sheep and Dog follow the star to Belen to witness the miracle of the Nativity. Sneaky Devils are in hot pursuit to snare them with shiny gadgets and pop culture, while glorious Archangels protect them with flaming swords and witty tactics. Will evil finally destroy the innocent, or will fortitude and compassion prevail!? The fun continues with lovely Christmas carols sung in Spanish and English accompanied by "Gertie and the T.O. Boyz" rock'n Waila band! Piñatas for the niños after every show, with a special performance by the Ballet Folklorico Tapatio before Sunday's matinee!
Click here for more information on A Tucson Pastorela!
DECEMBER 20-23, 2012
TCC LEO RICH THEATER
260 S. CHURCH
Ticket outlets:
Borderlands Theater Box Office
(520) 882-7406
boxoffice@borderlandstheater.org
TCC Ticket Office Location and hours
10:30am-5:30pm Monday – Friday
Tucson Convention Center Ticket Office: 260 South Church Avenue
TCC Charge by Phone Tickets and online:
800-745-3000 or www.ticketmaster.com
COMMUNITY PARTNERS: Tucson Meet Yourself, and University of Arizona Institute for the Environment
SPONSORS: Friends of the Pastorela, Tucson Pima Arts Council, Arizona Commission on the Arts, National Endowment for the Arts, Desert Diamond Casino, Southwestern Foundation.
---
A New Play by Obie Award Winner Luis Alfaro
(McArthur Foundation Fellow)
From the critically acclaimed writer of Oedipus el Rey and Electricidad comes a contemporary Chicano re-imagining of Euripides' Medea. This haunting and sensual story brings powerful tides of indigenous magic to conjure the wrath of a woman scorned.
COMMUNITY PARTNER: University of Arizona College of Humanities
SPONSORED IN PART BY: Arizona Commission the Arts, Tucson Pima Arts Council, and National Endowment for the Arts
MARCH 28 – APRIL 14, 2013
CABARET THEATER
330 S. SCOTT (Temple of Music and Art)