By Wendy Burk, Eric Magrane and the Pastorela Ghost Writers
A FAMILY TRADITION BACK FOR THE 17TH YEAR!!!!
ONE WEEKEND ONLY!
Shepherds, Sheep and Dog follow the star to Belen to witness the miracle of the Nativity.  Sneaky Devils are in hot pursuit to snare them with shiny gadgets and pop culture, while glorious Archangels protect them with flaming swords and witty tactics.  Will evil finally destroy the innocent, or will fortitude and compassion prevail!?  The fun continues with lovely Christmas carols sung in Spanish and English accompanied by "Gertie and the T.O. Boyz" rock'n Waila band! Piñatas for the niños after every show, with a special performance by the Ballet Folklorico Tapatio before Sunday's matinee!
DECEMBER 20-23, 2012
TCC LEO RICH THEATER
260 S. CHURCH
Ticket outlets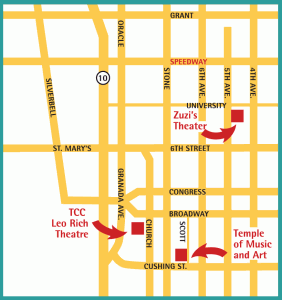 Borderlands Theater Box Office
(520) 882-7406
boxoffice@borderlandstheater.org
TCC Ticket Office Location and hours
10:30am-5:30pm Monday – Friday
Tucson Convention Center Ticket Office: 260 South Church Avenue
TCC Charge by Phone Tickets and online:
800-745-3000 or www.ticketmaster.com
Dates & times
PREVIEW ½ PRICE TICKETS AND KIDS ARE FREE: December 20, 7:30pm
The Shepherd's Play in Context:  Join UA Folklorist and Tucson Meet Yourself Program Director Dr. Maribel Alvarez in an interactive session following the play!
$12 General & Senior, $6 Student, Free children 12 and under
OPENING NIGHT CELEBRACIÓN: December 21, 7:30pm
$24 General and Senior, $12 Student, $7 children 12 and under
Opening Night Celebración with postres, plus meet and greet the ghost writers and performers
REGULAR PERFORMANCE: December 22, 7:30pm
$19.75 General, $17.75 Senior, $12 Student, $7 children 12 and under
SUNDAY MATINEE:  December 23, 2pm
$19.75 General, $17.75 Senior, $12 Student, $7 children 12 and under
Ballet Folklorico Tapatio at 2pm, right before the production begins
SUTDENT MATINEE: December 20, 10am
$7 General & Senior, $6 Students
The Heart of A Tucson Pastorela
At its heart, the Tucson Pastorela is a fun Christmas play—a family tradition, a musical comedy, and a political satire. In 2012, one of the major issues that the play takes on is climate change. Each year, a contemporary character is magically transported back in time to go along with the shepherds on their treacherous journey to Belén (Bethlehem). This year, that contemporary character is Chuy, an LGBTQ high school student who wants to become a climate scientist. Imagine what transpires when the devils, disguising themselves as popular contemporary characters, try to tempt Chuy and the shepherds away from their journey! And who will the angels disguise themselves as to save them? To find out, come to the play at TCC's Leo Rich Theater.
-Eric Magrane
The Pastorela
Dynamic After Five Centuries
Our A Tucson Pastorela has deep roots in Europe. In medieval towns, short plays illustrating Bible stories were presented in public spaces on special holy days. When the first missionaries arrived in New Spain in the 1500s, they faced the challenge of introducing the narratives of Christianity to huge native populations. Many turned to religious drama, with the new converts taking part in the spectacle. One popular play depicted the shepherds on their journey to Bethlehem.
The plot is simple. The Angel appears to the shepherds and tells them the news; the shepherds walk to Bethlehem and are the first to adore the new-born Babe. But to be drama there must be an obstacle to overcome – Lucifer and his temptations. And as they were on the streets of Europe, the Devils are dangerous, funny, and doomed to failure.
The Pastorela as it is performed today, all over Mexico, varies in details from village to village and from year to year. These details are often local – stories and conflicts close to the hearts of the community. Here in Tucson, the plot, the outcome, even the characters (Bato, Gila, Lucifer, San Miguel) are unchanging. But the details (and remember just who is in those details) change from year to year, reflecting what is of importance to our community. I have no idea what will happen in 2012, but I DO know that the shepherds will be given their orders, will face three terrible temptations, and with help from their human, animal and angelic friends, will pull through.
-Jim Griffith (Big Jim)