CONJUNTO BLUES
South Texas Border Music comes to Tucson for one night
by: Nicolas Valdez
Tucson, put on those dancing shoes and prepare for an exhilarating evening where the past and future come together in perfect harmony. Borderlands Theater proudly presents CONJUNTO BLUES, a one-night-only extravaganza of South Texas theatre and music. The first half of the night features San Antonio based Nicolas Valdez's one-man show which theatrically chronicles the development of conjunto music. The evening culminates in a blow-out concert featuring Nick Gaitàn and Los Nahuatlatos, the next generation of Xicano fusion from South Texas. The event takes place Sunday, October 4, at 7:00 P.M. at the Fox Theater in downtown Tucson.
Sunday, October 4
6:00pm Food Trucks! 7pm show!
Fox Theater
17 W Congress St, Tucson, AZ 85701
Tickets: $20 General; $10 Students
Click the purchase button or
Call the Box Office (520) 882-7406
Or purchase tickets in person at the Borderlands Theater Office at 40 W. Broadway.
CONJUNTO BLUES
The newest performance by SanAnto's own cultural activist, Nicolas Valdez. By threading together performance poetry, live music and documentary footage, CONJUNTO BLUES explores the historical and social conditions that led to the development of Conjunto music as an expression of cultural resistance and liberation.
"We are all the products of great migrations," proclaims Valdez. CONJUNTO BLUES follows the migration of the diatonic button accordion, first introduced to Texas by German settlers and appropriated by Xicano communities along the US/Mexico border that, combined with the 12-stringed bajo sexto, has become the heart and soul of Conjunto music. According to Juan Tejeda, founder of the Tejano Conjunto Festival in San Antonio, Conjunto music is "an original American ensemble" that tells the story of the Mexican American working class.
By age 9, Valdez was learning from the legendary Valerio Longoria, Master Accordion Instructor at the Guadalupe Cultural Arts Center's Xicano Music Program, the first of its kind in the United States and founded by Tejeda.
CONJUNTO BLUES made its World Premier in April of 2013 in Denver, Colorado through the support of Su Teatro and by generous grants from the National Endowment for the Arts and the National Performance Network.
ABOUT THE CONCERT
They say evolution thrives where two worlds collide (i.e. where land meets the sea) and those on the "3rd Coast" (Gulf Coast) are all too familiar with cultural head-on collisions. Texas based musicians, Nick Gaitàn and Los Nahuatlatos, exemplify the cross-genre marriages that occur when the old school meets the new. With one foot embedded in Texas Roots and the other in unexplored musical territories, these bands don't so much straddle the line as find the groove in between worlds. From Conjunto to Swamp Pop, Chicano Soul to Ska and Cumbia, this is the voice of a generation eagerly pushing the boundaries. "It's the I-10 connection. From Houston to San Antonio and beyond," says Nicolas Valdez, band leader of Los Nahuatlatos
FEATURED ARTIST
Nicolas Ramiro Valdez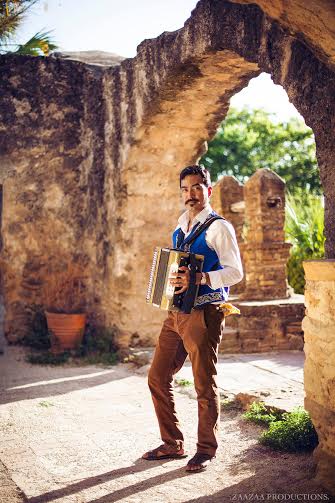 is a San Antonio, Texas based performance artist with over 15 years experience in cultural arts activism. His introduction to the stage came early. Nicolas was trained in traditional Conjunto music by master accordionist Valerio Longoria Sr. at the age of 9 and by 15 he was an active member of the Guadalupe Cultural Arts Center's youth theater company Grupo Animo, writing and performing in original staged works. Nicolas attended the University of Wisconsin-Madison where he studied classical theater. His real training, however, came from the practical experience of working with other performance-based artists around the country, learning from their various processes and methodologies. Over the years, Nicolas has developed his own unique style incorporating music, poetry and theater into culturally relevant performances that speak to the experiences of the communities along the US-Mexico border. He has also dedicated much of his time to working with young artists in underrepresented communities of color. Nicolas continues to develop new works challenging audiences to not only observe, but to actively participate in a critical dialogue of the economic and political forces that continue to marginalize and scapegoat the working-class.
FEATURED BANDS
Nick Gaitan

is a Singer/songwriter and Bassist from Houston, TX. Gaitan incorporates many of the influential genres of the Texas-Louisiana gulf coast region from Tex-Mex, Swamp Pop, Cumbia and Rockabilly into his music. Gaitan has has been nominated for and has won numerous awards since he jumped on the Texas music scene in 1999. Some of his most recent awards include Local Musician of the Year, Best bassist, and Best Roots Act. Gaitan also appeared on one of the final episodes of The Late Show with David Letterman in December of 2014 backing up Willie Nelson and Billy Joe Shaver. He is now touring with acclaimed accordionist Robert Rodriguez to support his 2nd independent release titled "Bridges & Bayous" recorded at Houston's own Sugarhill Studios.
Los Nahuatlatos

are a group of San Antonio based musicians rooted in the cultural traditions of South Texas. Hector Saldaña of the San Antonio Express News describes them as "an authentic voice that epitomizes a shift in la onda (the scene)." Their music, self-described "Xicano Roots Fusion", is a synthesis of traditional Latino styles (including but not limited to Conjunto, Son Jarocho, Latin Jazz and R&B) combined with contemporary elements of Hip-Hop, Ska, Reggae and Soul. Los Nahuatlatos have been featured at the 2013 International Accordion Festival and the 32nd Annual Tejano/Conjunto Festival. They represent a new generation of Latino musicians exploring an ambitious new sound whose mission is to create inspiring and innovative music on a conscious level that people of all ages and backgrounds can enjoy. Their debut album is set to be released this year.