Guera: A Daring and Truthful Experience
Borderlands Theater proudly presents Guera written and performed by Lisandra Tena.
International Director Rebeca Mayorga
Guera runs February 1-12, 2017.
Temple of Music and Art Cabaret Theater
THE PLAY
Structurally innovative and emotionally ri
veting, Guera is the nuanced, unflinching story of one young woman's struggle to survive while growing up with a drug-addicted mother and an overwhelmed, alternately tender and violent father. Drawing on years of supporting herself as a waitress, Tena sets her story in a Mexican restaurant; as the waitress, she banters with the audience, inviting them to choose the evening's scenes from the menu: from chips and salsa to dessert. Will it be "Mom's Yard Sale" or "Promises, Promises"? "El Mexicano" or "The Talk"? With each selection, she serves up a vignette from her life, moving seamlessly from engaging hostess to the characters that defined her life.
No matter the combination of choices, the play has an arc, and the audience gets the same story, albeit through different vignettes.
While each performance is different, depending on the scenes selected, every performance is a riveting, emotionally charged experience, celebrating the tenacity and triumph of the human spirit.
THE POWER OF A PERSONAL STORY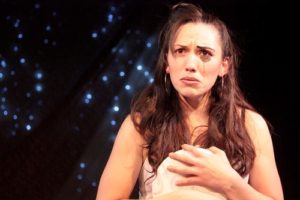 "Lisandra Tena is an uncompromising actress who understands the power of a personal story." Chris Jones Theater Critic for the Chicago Tribune aptly wrote in a review of Guera. In sharing her truth, Tena transcends her plight as just another unfortunate statistic. In overcoming unbearable circumstances Tena gives us hope in the human capacity for resilience. Her story serves as inspiration for facing life's struggles. Like her reality growing up, Guera is dark and funny, heartwarming and harsh. This personal story resonates with any one who has had to over come family dynamics and beyond. It explores the darker side of humanity while being wildly entertaining.
REFRESHING TO SEE A CHICANA ONE WOMAN SHOW
There's been much discussion in the past couple of years about how male dominated theater is and how white women account for most of theater's audience. It's an odd equation and many theaters around the globe are making an effort to bridge the gap. Borderlands Theater has a long history of breaking barriers of standing in opposition to those statistics.  Over the past seven years at Borderlands, women have written at least half or more of the plays produced. Guera is timely and exciting in that it's a woman boldly sharing her deepest darkest secrets. Part of Guera's originality and charm is that it finds humor in the most unlikely places. It's on the cutting edge not only in structure but also in perspective and by whom we see on stage. 
For more information go to guerashow.com
---
PERFORMANCE SCHEDULE AND TICKET INFORMATION
Temple of Music and Art Cabaret Theater, 330 S Scott Ave, Tucson, AZ 85701. Tickets: $7-$26 with various discounts.
2/1 – 7:30 pm Preview (HALF OFF All tickets $7$12!)
2/2- 7:30 pm Preview (HALF OFF All tickets $7/$12!)
2/3- 7:30 pm Opening Night Celebration: With light refreshments plus meet and greet the actors and director. ($26/$14)
2/4 –  2 pm Matinee & 7:30 pm ($14/$19.50/$23.50)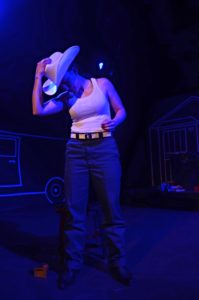 2/11-  2 pm Matinee & 7:30 pm ($14/$19.50/$23.50)
2/12 – 2 pm Matinee & 7 pm ($14/$19.50/$23.50)
FOR MORE INFORMATION AND TO PURCHASE ADVANCE TICKETS:
PLEASE CONTACT BORDERLANDS THEATER BOX OFFICE AT
---
Lisandra Tena
Born and raised in Albuquerque, NM, my theatrical training began at Working Classroom in 2006. At Working Classroom, I studied with guest instructors from Yale School of Drama, Naropa University and Tectonic Theater Project.
Upon receiving a scholarship from Working Classroom, I attended The Theatre School at DePaul University in Chicago, where I was fortunate to have graduated magna cum laude with a BFA in Acting. Subsequently, I worked with the Goodman Theatre, Adventure Stage, and Collaboraction Theatre (ensemble member).  I was honored in 2013 when Chris Jones from the Chicago Tribune chose me as one of the Top 10 upcoming talents in Chicago Theater.
My original one-woman show, GUERA, was first produced at the YoSolo Festival in Chicago. In June 2015, I was a Fellow at the Women's International Study Center in preparation for Guera's New Mexico Tour.
In recent years, I've had the pleasure to revisit Working Classroom as a guest instructor, teaching workshops such as Intro to Monologues, Intro to Improv, and Theatre Games for Young Adults and ESL Adults. I am currently residing in Studio City, California. #GueraShow
For more information about Lisandra Tena, go to her website lisandratena.com
---
Rebeca Mayorga
(Director/Designer)
is originally from Jalisco, Mexico, received her BFA from the University of Miami where she was honored with the 2001 and 2002 Outstanding Design Student Award.  She currently lives in Madrid, Spain and is the founder and artistic director of Teatro EterNEO. She began her training at Working Classroom where she studied with Steve Wangh, Moises Kaufman, Ann Cusack, Brendan McCalland KJ Sanchez and also directed Federico Garcia Lorca's Once Five Years Pass,No Swamp Like Home by Monica Sanchez and Night Train to Bolina by Nilo Cruz. Additional U.S. credits include Naomi Iizuka's ALOHA, Say the Pretty Girls and Andarse por las ramas by Elena Garro at the National Hispanic Cultural Center in Albuquerque. As artistic director of Teatro EterNEO, she has directed The Pelican and Playing with Fire by August Strindberg. She is a founding member and artistic director of Sprouts International Ensemble Theater.
Edward Carrion
(Stage Manager) is a freelancing stage manager, who recently graduated from the University of New Mexico with a BA in Design for Performance. In 2016 has assisted in managing some large scale public events for the United States Institute of Theater Technology; managed an independent production by young theater artists; an immersive shadow puppet show, Beyond the Shadows; and has recently returned from Las Vegas where he was the SM Intern on Cirque du Soleil's Michael Jackson ONE. He has just closed a run of Alice in Wonderland, and is excited to be working on Guera once again!