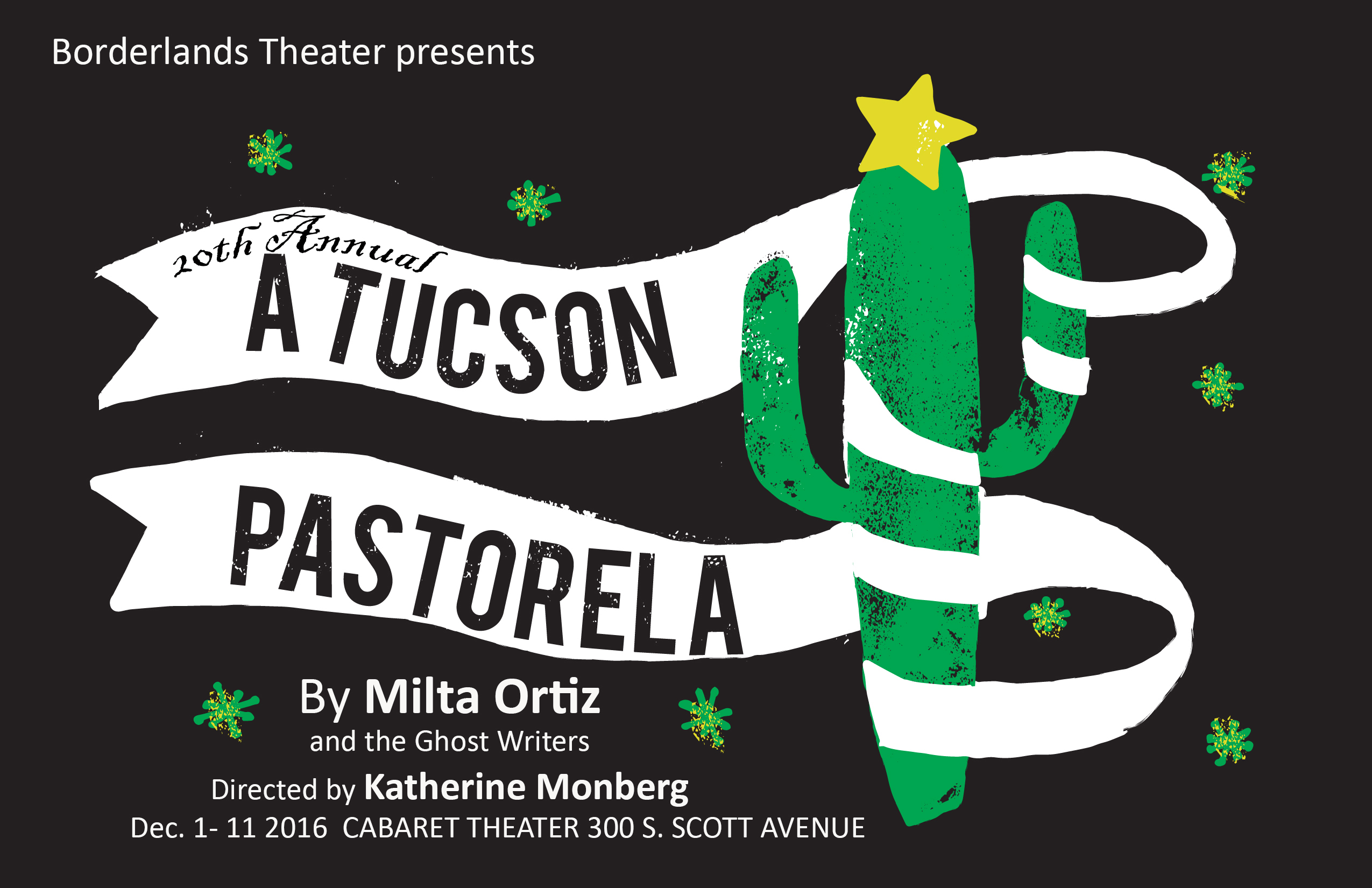 Dec 1 – Dec 11, 2016
Cabaret Theater 300 S. Scott Avenue
Written by Milta Ortiz and the Ghosts Writers
Directed by Katherine Monberg
Live Music by Gertie and the T.O. Boyz
This holiday tradition remains generously infused with farcical satire lampooning 2016's biggest political and pop cultural events.The shepherds and their flock must embark on a harrowing journey past Lucifer and her minions to find el baby Jesus. Archangel Michael and her sidekick Gabriel help outsmart those nasty devils and bring Christmas cheer! Come laugh and be merry!
Buy A Tucson Pastorela Tickets
---
Milta Ortiz
(PLAYWRIGHT)
Milta Ortiz is a playwright from the Bay Area now in Tucson by way of Chicago. Currently working on Solving for X (playwright/director) for the Working Classroom, 20th Annual A Tucson Pastorela, and Sanctuary. As an NNPN playwright in residence at Borderlands Theater, she wrote and developed Más, selected to the Latino Theater Commons Carnaval play festival, and premiered at Borderlands Theater in fall 2015, nominated for an American Theatre Critics/Steinberg New Play Award and Citations, and a Tucson Mac award for best drama. Más was co-produced in the Bay Area by Laney College in March 2016 and Ubuntu Theater Project in May 2016 and will go on an Arizona University tour in the 2016/17 season. Other produced plays include Sonoran Shadows (a shadow play,) 19th Annual A Tucson Pastorela, Disengaged, 18th Annual A Tucson Pastorela, Fleeing Blue (university production,)Scatter My Red Underwear. Milta worked extensively as a teaching artist and received individual artist grants to write, develop and produce her solo work in the Bay Area. As a founding member of the HyPE theater ensemble in the Bay Area, she devised pieces to be performed site specifically and on stage. She teaches theater at Pima Community College. Milta earned an M.F.A. from Northwestern University's Writing for the Screen and Stage program and a Creative Writing B.A. from San Francisco State University. Milta's day job is Marketing & Outreach Director at Borderlands Theater. She's worked as a teaching artist for over 6 years and occasionally moonlights as such. She is proud to be mommy to a bubbly toddler.
Katherine Monberg
(DIRECTOR)
Katherine Monberg is a freelance director and dramaturg based in Tucson, Arizona.  Recent directing work includes Middletown, The Mystery of Edwin Drood, Beauty and the Beast: a Fairy-Tale Thriller, and Elephant's Graveyard for Arizona Theatre Company's Summer on Stage; Octagon, Samsara and Spark for ATC's Café Bohemia; staged readings of Germaine Shames' The Abstract Life presented by SheWorxx; and the world premiere of Savage Bond at Beowulf Alley Theatre Company.  She is also the Literary Manager at Arizona Theatre Company, where she works as a dramaturg, copyeditor, teaching artist, and supervisor of the dramaturgical and literary internship program, in collaboration with the University of Arizona.  She is also currently pursuing her Masters in Business Administration at the U of A.
Pastorela Cast
GUEST/VISITANTE
Stephanie       Feliz Torralba
ANGELS/ANGELITOS
Michael        P.J. Peavy
Gabriel        Raul  Andres Gonzalez
DEVILS/LOS DIABLOS
Lucifer      Emily Pratt
Satan        Kat Mcintosh
Wrath         Eddie Diaz
SHEPHERDS/PASTORES
Bato        Jim Klingenfus
Menga         Natalia Storie
Gila        Lucinda Serrano
Soledad         Cici Salcido
ANIMALS/ANIMALES
Crespo     Amanda Lopez
Popo       Julia Mike
Muffin        Lucia Grijalva
KINGS/LOS REYES
King     Mark Allen
King    Tashiana Holt
King    Marc David Pinate
Star     Leticia Gonzalez
HOLY FAMILY/FAMILIA SAGRADA
Mary    Alex Grijalva
Joseph      Brandon Gonzalez