written by Aditi Brennan Kapil
directed by Barclay Goldsmith
"Rich in feeling, wide in scope, teeming with poetry…"
—The New York Times
A National New Play Network Rolling World Premiere, and Recipient of the National Endowment for the Arts' 2009 Distinguished New Play Development Project
Five vibrant souls redefine themselves in their new world against the subterranean rhythms of a subway train! Funny and powerful, this new play explores the intersecting lives of Agnes, a Liberian homecare worker, a Bulgarian ringmaster and his wife, an Indian call center escapee, and an itinerant transit busker.
Borderlands Theaters' production of Agnes Under the Big Top is part of a Rolling World Premiere that includes productions at Mixed Blood Theatre in Minneapolis, MN and a production at Long Wharf Theatre in New Haven, CT.
Supported in part by NNPN (National New Playwrights) Rolling World Premiere.
Underwriters: Dr. Thomas and Karinn Rothe.
Community Partner: Iskashtaa Refugee Harvesting Network
February 9 – 26, 2012
Zuzi's Theater
738 N. 5TH Avenue
The Play
AGNES UNDER THE BIG TOP: A TALL TALE
'AGNES…' explores the intersecting lives of several immigrants in a US city. It is a magical tale of hope and disappointment, identity and reinvention, loneliness and community, as narrated by an itinerant subway busker. A Distinguished New Play Development project by the NEA as administered by Arena Stage and developed at the Lark NY, the Playwrights' Center Minneapolis, Interact Theatre, and the Rhodopi International Theatre Laboratory in Bulgaria.
"...this lovely, brooding play bodes well for the future of the theater." -Sylviane Gold, NY Times
"…a tough and tender play … that is as graceful and evocative as trapeze artists flying through air with the greatest of ease." -Frank Rizzo, Variety
"Lives intersect while others hover in parallel, but Kapil has created a masterly matrix for what are essentially first-person short stories told by the five main characters… this lyrical, bittersweet play is a spirit-soaring experience." -Susan Hood, Hartford Courant
Aditi Brennan Kapil
writer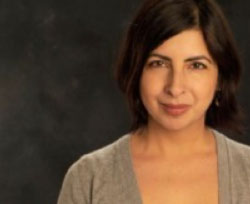 is an actress, writer, and director, of Bulgarian and Indian descent. She was raised in Sweden, and resides in Minneapolis, MN. Her play Love Person, premiered in an NNPN rolling world premiere in the 2007/2008 Season at Mixed Blood Theatre, MN; Marin Theater, CA; Phoenix Theater, IN, and received the 2009 Stavis Playwriting Award. Love Person, will make its UK debut in 2011. Her latest play Agnes Under the Big Top: A Tall Tale, commissioned by Mixed Blood Theater, was selected as a Distinguished New Play Development Project by the NEA as administered by Arena Stage, and premiered as an NNPN rolling world premiere at Mixed Blood Theatre, Long Wharf Theatre (CT), with an upcoming production at Borderlands Theater (AZ). Aditi is a resident artist at Mixed Blood Theatre, and a Core Writer at the Playwrights' Center, Minneapolis.
Barclay Goldsmith
director
Eva Zorrilla Tessler
stage manager
Susan Arnold
Roza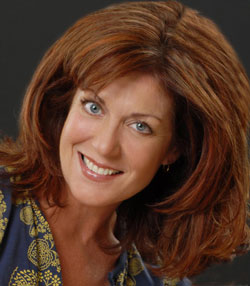 is delighted to be working with Borderlands Theatre. Her performance credits include Cleopatra in the Rogue Theatre production of Immortal Longings, Claire in The Maids, Big Eight in Flaming Guns of the Purple Sage, Polina in The Seagull, April in Hotíl Baltimore, Gertrude in Hamlet, Maria Callas in Master Class, Halbrech in Scotland Road, Molly in Molly Sweeney, Patsy in A Closer Walk with Patsy Cline, Maria in Twelfth Night, and Lady Macbeth in Macbeth. Susan is a member of Actor's Equity Association and Screen Actor's Guild and currently serves as Artistic Director for Clean and Sober Theatre.
Philip G. Bennett
Shipkov

debuted on the New York stage with American Stanislavski Theatre, in Chekhov's, The Cherry Orchard, alternating roles,  Lopachin and Gaev; Cabot, O'Neil's Desire Under the Elms; Nota, To Clothe the Naked, Berkeley Repertory Theatre; King Alonso, The Tempest; Doc Peabody, As I Lay Dying, The Rogue Theatre, Tucson.  He served as Assistant Artistic Director of the American Stanislavski Theatre, and has worked with directors and actors of the Royal Shakespeare Company.  Phil founded the San Francisco Theatre Academy; and, trains actors in Tucson. He is a three-time recipient of the Hollywood Dramalogue Award.  www.TheatreLabConservatory.com
Laxmi Narayan Dahal
Happy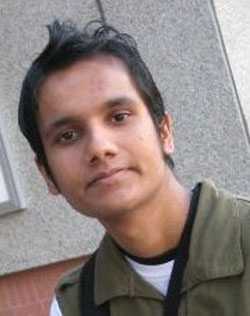 was born in Goldhap, a Refugee Camp in Nepal.  While living in Goldhap, he was an actor in Youth Voice Theatre, which received an award from the United Nations High Commissioner for Refugees (UNHCR).  Some of the theater's goals were to educate fellow refugees about HIV/AIDS. Laxmi is a graduate of Catalina Magnet High School where he wrote and acted in a play and a personal essay of his was published in Arizona Daily Star. He has worked with VOICES, documenting Tucson's community stories and Finding My Voice, a literacy and visual arts program, sharing his stories and others with research, photography, and writing, focusing on critical social issues.
T Loving
Agnes

has been living and loving theatre for almost as long as she can remember.  She feels blessed to have been accepted into Tucson's rich arts, activist, and social service communities.  She came here 12 years ago and found a community that has held and captivated her since. T is overjoyed to have this opportunity to work with Borderlands Theater and the many wonderful and talented folks that have come together to breathe life into the many worlds encompassed under this big top.

Toni Press-Coffman
Ella

accomplished actor and playwright, has written over 20 plays and has had work developed at the O'Neill National Playwrights Conference, the Sundance Institute, Midwest Professional Playwrights Laboratory, and Minneapolis' Playwrights Center.  Her play Touch, created with a grant from the Arizona Commission on the Arts, has been produced throughout the United States, including a 2003 Off-Broadway production; in 1999, she was awarded a NEA/TCG Playwright Residency to develop Bodies and Hearts in the Face of the Monster (That Slut!) with Indianapolis' Phoenix Theatre; Stand, received the Brodkin Award; Holy Spirit on Grand Avenue, produced by Live Theatre Workshop (2007), won the Arizona State Playwriting Award; and Armor, won Arizona Theatre Company's Playwriting Award, and was produced by Winding Road Theater Ensemble (Sep. 2010).
Brian Terraz
Busker
has most recently appeared in Borderlands' White Tie Ball, and in The Rogue Theatre's The Tempest, Ghosts and Naga Mandala. His Tucson theatre debut was in Black Comedy at Beowulf Alley Theatre. Taraz moved to Tucson from San Diego where he appeared in various productions. He is most pleased to work with Borderlands Theater again.